Latest Blog Posts from Graham Jones
No Results Found
The page you requested could not be found. Try refining your search, or use the navigation above to locate the post.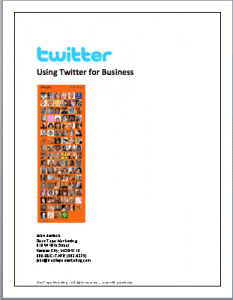 Twitter for Business is a 20-page guide written by small business marketing expert, John Jantsch who runs Duct Tape Marketing. The booklet covers the basics of Twitter and shows exactly how John uses it for his business, providing a valuable insight into expert usage....
read more
Data and infographic by AWeber Email...
read more
Latest Newswire – Press Releases
A recent study found that Facebook Commerce will reach $30 billion in 2015 and play a major role in the marketing mix of companies
read more
Broadband comparison and review site Broadbandgenie says further amendments are required to clarify broadband services for consumers.
read more
Women make up less than half of the internet audience, but they generate 58% of e-commerce dollars
read more