By Will Kintish
The daddy of modern day networking is a pioneer called Dr Ivan Misner. He came up with the idea of breakfast networking clubs and his is still the biggest –BNI (Business networking International). He says unless you know who you want to know very few people can help you.
When delegates ask for referrals far too many people say "I am looking for anyone who needs an accountant/ plumber/ circus ring leader" which leads fellow networkers' minds to go blank. When you ask "Does anyone know anyone at Smith & Co?" you either do or you don't.
This is the beauty of LinkedIn. You have to be specific when seeking referrals; your computer won't put up with the nonsense of you saying to it 'any accountant anywhere'. In fact I'm wrong – if you ask LinkedIn to 'find me a profile with the word 'accountant' in it, at this time of writing LinkedIn comes up with 286,436 times. Go through those if you've nothing else to do!
This is where the advance search comes in useful; it means you can be bulls-eye specific.
The advanced search button is at the top of any page next to the big blue search button. It is only there if, on the drop down button to the left of the search box, it shows 'search people' or search jobs' or search 'answers'.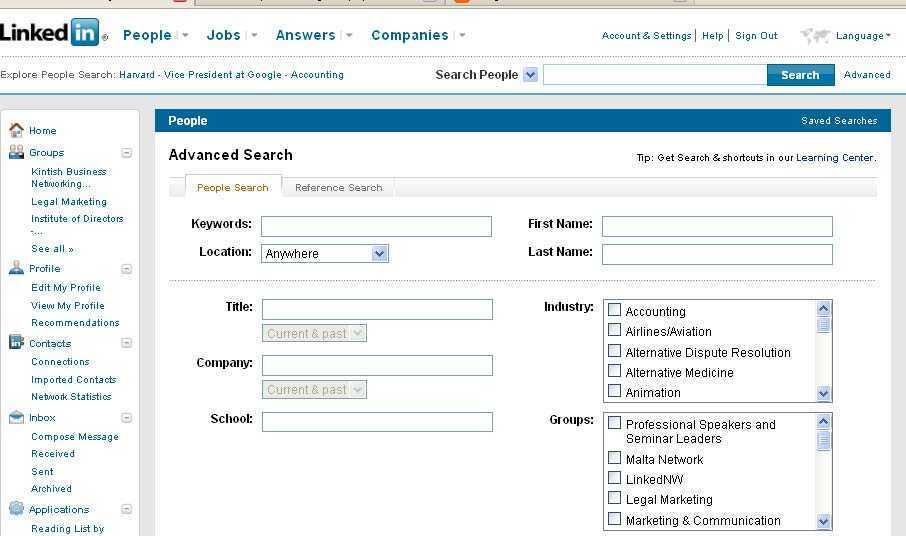 Decide which industry you want to work with, which location, the title of a person you're looking for perhaps, maybe get even more specific by naming a company. This is how your window should look.
So let's say we want to meet someone in accounting who is a partner OR owner OR director in the accounting industry where the word training is important to you and within 50 miles from your postcode. This is what comes up for me.
32 bulls-eye potential contacts and in my case a number of level 2 contacts i.e. people who are known to my immediate level 1 network.
Oh and look to the right of the headline; it says 'Save this search'. Click and this comes up
When you choose this option you will get updates of your search weekly or monthly- a useful tool I feel.
For me, you will get the best out of LinkedIn when you know your target market-you need to know who you need to know. So there you have it, no more "Do you know ANYONE….."
The author of this article is Will Kintish, leading UK authority on effective and confident networking both offline and online. If you'd like Will to speak at your conference or training workshops, call him on 0161 773 3727. Visit www.linkedintraining.co.uk and www.kintish.co.uk for further free and valuable information on all aspects of networking.