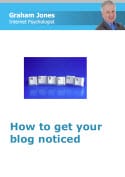 It's all very well having a blog, but if no-one reads it you may as well not bother. That's why so many blogger give up. They write their blog, but fail to get it noticed and as a result they feel the work is of no value.
Getting your blog noticed and read is essential if it is to succeed. But just how do you get your blog noticed when there are tens of millions of blogs "out there"?
Follow the advice in this report and your blog will get significant numbers of readers, enabling you to promote your business even more.
Download this free report by clicking on the link below.