There are plenty of tools available to help you find the right keywords or to get data on your competitors so that you can strive to do better than them in the search engines. However, much of that software focuses solely on "Search Engine Optimization" (SEO) which is only part of the process in getting your website noticed.
Thankfully, the folks at Caphyon have produced two pieces of software which when used together allow you to get great search engine results for your website, but also help you make sure you get noticed by people too…! It's all very well being noticed by search engines, but unless you can grab the attention of human visitors you may as well not bother…!
The two programs are "Advanced Web Ranking" and "Advanced Link Manager". Unlike many other leading software in this sector, these programs are downloadable items which run as programs on your PC or Mac; some of the main competition to these programs only run as web services. That sounds great, because it means you can access your data anywhere, but it also presents potential security issues, especially if you operate on an agency basis, preparing reports for your clients.  Advanced Web Ranking, however, brings the best of both worlds – local software and online reporting – thanks to its ability to create HTML reports which you can host yourself or you can use the AWR Cloud service, where you can upload reports and documents for your clients. On top of this, unlike competitors, Advanced Web Ranking is downloadable for use on a Macintosh – essential in the creative web industry where Apple Macs are standard.
Advanced Web Ranking Review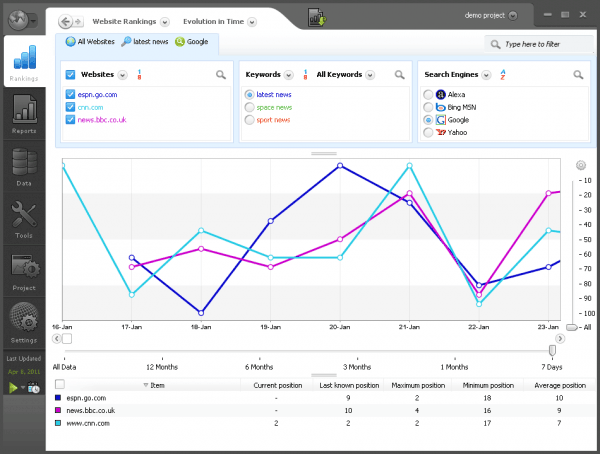 Advanced Web Ranking is intuitive and easy to use. It has straightforward menu options which are obvious as to what they can do. However, you need to look closely at the "sub-options", as there is much more to this program than is obvious at first glance – clicking on the various little "pop-up" menu options brings you considerable depth and additional features.
Once you are aware of all the little extras this program provides you will be able to access a huge array of information for your website – or those of your clients. For instance, you can check your site's ranking for multiple keywords or for individual landing pages. You can also compare ranking positions over time and see the progress you are making.
Advanced Web Ranking also provides you with an analysis of your current website and lets you research new keywords. Thankfully the program integrates well with Google and keyword tools such as WordTracker. What this means is that you can incorporate your WordTracker research and your Google keyword analysis all in the same tool – avoiding having to go to separate places. This is a real time-saver.
The program also connects to your Google Analytics account and your social media accounts, such as Facebook and Twitter. This enables you to get a complete snapshot of how well your website is doing in terms of visibility, thereby giving you vital clues as to what you need to do in order to improve the situation.
Advanced Web Ranking lets you analyse your site, check your keywords, spy on the competition and work out how to gain greater traction in the search engines. On top of this it allows you to monitor how well your site is doing – all from the convenience of one single program. The reporting facilities are excellent, providing a variety of customisable reports and ways in which they can be accessed. However, some of the reports provided "out of the box" have strange titles, such as the "Overview" which actually presents a detailed list of keywords and their ranking position on each search engine. However the "Complete SEO Report" presents a front page which is really an "overview". Thankfully, though, you can create your own reports with your own names to avoid any confusion…!
In spite of its little foibles this program is one of the best programs you can find to help you analyse and boost your website visibility within the search engines. However, it only really deals with part of the work you have to do in order to gain online visibility – which is where the "sister" program, Advanced Link Manager, comes into play.
Advanced Link Manager Review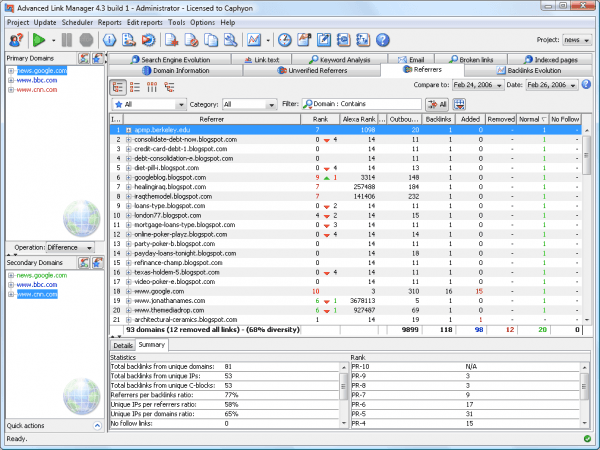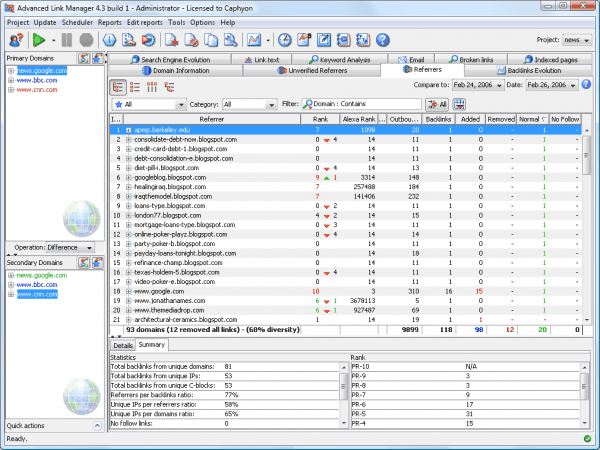 Advanced Link Manager does what it says on the tin…! It is a rather advanced way of being able to manage your website links. Links are a vital part of your website presence. Not only do they show search engines how well connected you are, but they also provide visibility to people. Individuals who are on another website see a link to your site and are likely to click on it. So, not only do links bring you "search engine juice" they also bring you traffic from people directly clicking on links. But they are only going to click on those links if they seem relevant. If your website is about car maintenance then the chances of someone clicking on a link to your site which appears on a web page about office stationery is pretty remote.
This is where Advanced Link Manager excels. It helps you find potential link partners which are highly relevant to your particular content. Rather than just helping you get links for links sake (which some competing programs focus on), Advanced Link Manager, helps you ensure you are only going to find relevant pages on which your links could appear.
You can achieve this by using keywords to search for link partners or checking out where your competitors get their links. You get a chance to analyse the benefit of the potential link partners the program finds for you by checking their Google Page Rank and their Alexa Rank, which helps you assess how much traffic these link partners are likely to provide you with. In addition, the program also locates the email addresses of each partner so you can approach them directly with a link request. The program then allows you to monitor the requests you make, see whether or not you have had replies and if the promised links have materialised.
Advanced Link Manager also provides you with an in-depth analysis of your existing links – and any others you create as a result of using the program. The analysis shows you a great deal of information about your links and helps you see any gaps you may have, allowing you to fill them.
The only disappointing aspect of Advanced Link Manager is that it is not as intuitive as it might be. You need to work with the program for a short while in order to fully understand its comprehensive features and capabilities. But if you are prepared to invest an hour or two in getting to know the programme it will be invaluable in terms of what it can achieve for your website.
Do you need Advanced Web Ranking and Advanced Link Manager?
Each of these programs works well and helps you achieve significant benefits for the visibility of your website. Although you could achieve a great deal with either one of these programs, the real advantage comes in using them together in combination to help you ensure your website gets as much search engine attention as possible. And this is where there is another advantage of these programs compared with the competition. Other SEO software is frequently based on a monthly price. However, both Advanced Web Ranking and Advanced Link Manager are programs you buy for a one-off, lifetime, fee. The only additional fees you would want to pay come in the second year of use of the programs for updates. Each program costs a one-off price of $99 for the Standard Versions, with annual updates being just $29. This means a one-year investment in both these programs would be $256, which is roughly equivalent just 10 weeks use of the competition. As a result, not only is the combination of Advanced Web Ranking and Advanced Link Manager a great idea for your website, it's also a great idea for your bank balance…!
For detailed information visit Advanced Web Ranking and Advanced Link Manager.