By Ella Mason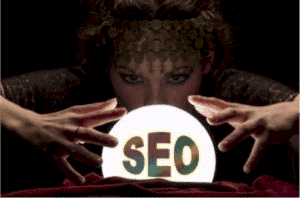 These days, the world of SEO and content marketing is expanding at such a rate that even those professionals who practice it on a day-to-bay basis are struggling to keep up. We're all trying to work out Panda and Penguin, we all want to have the best link building campaigns, and most importantly, we all want our businesses to have the most authoritative websites.
Wouldn't it be great if we could just look into our crystal-business-balls and see exactly what's about to come, so we could fully prepare ourselves for any unwanted repercussions that may affect our businesses?
Well, unless you have a second occupation as a fortune-teller as well as being a SEO-er, then unfortunately the reality of hindsight means that we'll never be able to.
But, fortunately for you, I've decided to do a little bit of research to see what many predict may happen in the world of SEO in 2013, so rather than having to fork out a fortune on a fancy crystal ball for your business, this article may be able to give you a little bit of insight of what's to come instead:
1. Say Goodbye To SEO Shortcuts
One of the reasons that SEO professionals are struggling to keep up is that their trusty search engine friends, such as Google, are becoming increasingly hard to trick and outsmart. Rather than continuing with and relying on the common traditional shortcut practices of adding meta tags and grabbing any links you can lay your hands on, businesses will now be encouraged to look at longer term solutions when it comes to their SEO strategies for 2013. Although these techniques will of course continue to be of great importance, 2013 will see the introduction of businesses needing to adopt other practice in order to help them rank well on Google – things such as having a good content strategy with persistent content updates, good keyword density spread across the page, links from high PR-relevant websites and creating shareable content holds more importance than ever before. Quite simply, the importance of content creation in SEO will be key in 2013.
2. More Updates on Panda and Penguin
2013 is set to be big year when it comes to Google releasing more and more algorithm updates. And, it's believed that by doing so, this prediction may just go hand-in-hand with the first one, as SEO professionals over the world will be encouraged to dedicate more of their time on quality content creation, as well as link-building. So, whether you focus your SEO in Dublin or in America, if you want to be a key leader in the SEO world in 2013, then make sure content makes a predominant appearance in your strategy.
3. Growing Authorship of Google Plus
Google+ really came out of the woodwork in 2012, and after the initial discovery and play around of its features by thousands of users, it's set to be even bigger in 2013 – particularly when it comes to SEO content. If you create quality content and have linked your name to your Google+ profile, then it's a great way to climb up the rankings and get to the top, as Google will recognize you as a frequent and respected author. So, if you haven't invested a lot of time in Google+ and have shunned it to the side a little bit because you didn't feel it was of much use to you, then time it's time to get with it – because it'll undoubtedly pay off for 2013.
About the Author
Ella Mason, an experienced freelance writer, wrote this article. Ella specialises in providing useful and engaging marketing and SEO advice to businesses.