By now having a Twitter, Facebook, and to some extent even a Pinterest account for your business is pretty much a no-brainer. But how about Google+? Launched to great fanfare, Google's social networking site soon became mocked for what wasn't present on the site: namely, people.
That's certainly changed in the years since, as more and more businesses and individuals alike come to see the benefits of doing their social networking on a platform that integrates so fluidly with a host of other essential Google products, like Hangouts, Google Docs and email. In fact, as of last January, a report from GlobalWebIndex shows that the Google+ population eclipsed Twitter's, with over 343 million active users. And of course, using Google+ comes with the not so surprising benefit of doing wonders for your SEO.
Below are a few creative ways to harness the tools of Google+ to attract and retain customers.
1. Curate Content with Circles
One of the biggest selling points for Google+ is its Circles feature, which allows you to separate your contacts into groups. It's a simple concept, but it's pretty innovative when you compare this to Facebook's clunky and ever changing privacy system and Twitter's lists. With G+, you can curate and control your sharing with a simple click.
How to get started? Let's say you're an online outdoor sporting good reseller.
Head to your home page.
Type in keywords related to your business and industry, like, "Hiking" and "Outdoor travel."
Click on "people and pages" to see who has a stated interest in what you do.
Create highly specific circles to suit the people you find. Say, "Hikers," "Climbers," and "Outdoor experts."
Follow any relevant people and pages and send contacts a message to introduce yourself and your company so that you're networking as you go. Also, take a good look at the kinds of things potential followers post and +1 in their feeds, as that will give you a sense of what kind of content your new followers might like you to post.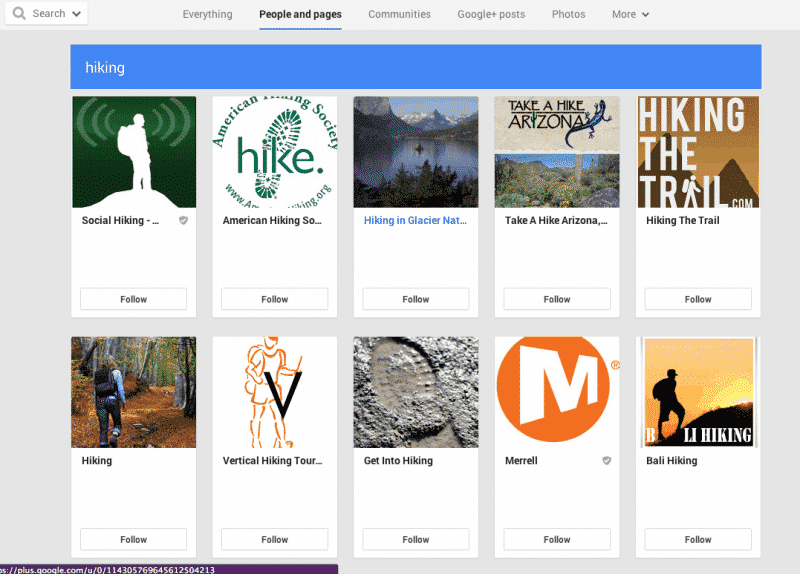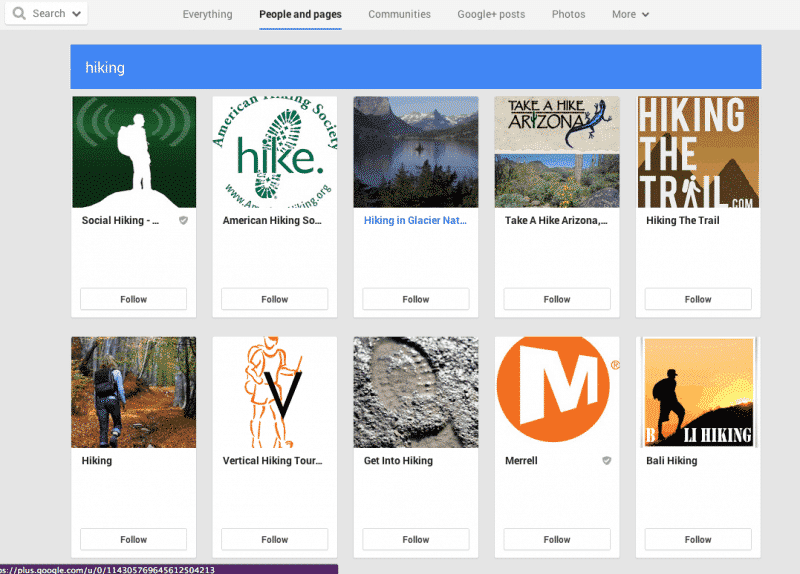 Put together a content strategy that's rich and varied, mixing both content you create yourself and content you reshare from other people's feeds. Great content could include anything from how-to and expertise pieces to customer or employee stories and industry news. Content can come in the form of blogs, videos, photos, infographics and really anything you can think of that would be relevant and interesting to your audience.
Next, start sharing your awesome content with the right people:
Head to your Google+ homepage.
Paste the link to your content into the share box.
Add some commentary so that followers will have a sense of your thoughts and voice, even when you're sharing someone else's content.
In the "add more people" pull-down menu, choose the highly curated circles you'd like to add or remove, based on perceived interest levels.
Click share.
Voila! The post is added to your follower's feeds and may be emailed to them directly, based on your settings.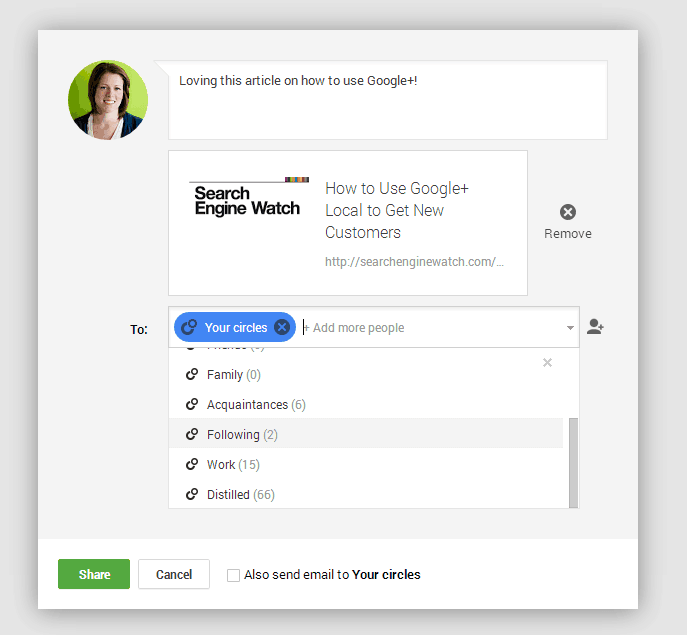 In this way, you can easily get the right content to the right people, which decreases the chances you'll be perceived as spam or simply ignored.
2. Network with Circles and Communities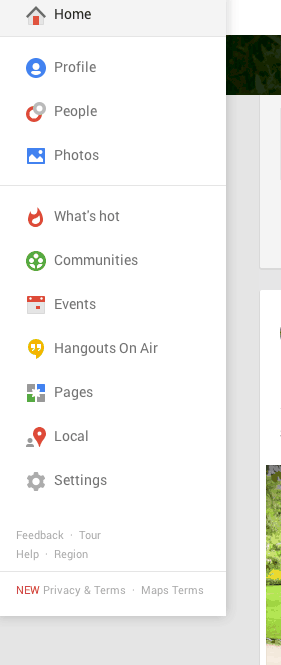 Circles aren't just good for sharing content; they're good for keeping relationships friendly as well. Let's say, for example, that your outdoor sporting good store is launching a new series on ways you can optimize your winter gear for peak performance with tools you can find in your garage. Just head to your "Winter sports" or perhaps your "DIY" circle and pull up your list of relevant contacts. Then let them know about your upcoming series, or simply comment on their content to remind them of your relationship before your release. Whether you go the direct route or simply prime the pump, this kind of relationship building will make your followers much more likely to engage with your content, which will in turn increase the likelihood that they'll eventually become a customer.
Another key place for networking is on Google+ Communities, a place where Google plusers can congregate to discuss their interests. As a business owner, communities are a great place to find even more potential followers. When you join an established community, chiming in on discussions that interest you will help you establish your reputation, expertise and brand as a whole. Or, create your own community—either one to suit a specific industry niche or one where your followers can discuss your brand.
To do either of these things:
Choose the "Communities" page from the red g+ pull-down menu in the top lefthand corner of your home page.
Type in a keyword that's relevant to your industry or business to find communities to join.
Or, click on the blue "Create community" button on the right hand side of your screen to start making your own. Decide whether you'd like this community to be private or public, fill out your about page, start a scintillating discussion thread and start recruiting community members!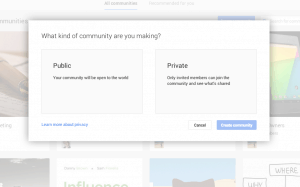 3. Hangout with Your Potential Customers
Google Hangouts are a mix between a chat room, a conference call and an all-out party, depending on your mood and who's there. A Hangout can be a good opportunity to show off your products or even the inside of your workshop. They can also be a great way to show your followers how to do something they've always wanted to know how to do, or simply a time to "ask me anything" Reddit-style. Hangouts are limited to 10 people (15 if you've got Google Apps), but with Hangouts on Air, you can stream your Hangouts right to YouTube. The video will be automatically archived so that future followers can watch it on their own time.
To start a Hangout on Air:
Choose "Hangouts on Air" from the g+ dropdown menu.
Click the blue "Start a Hangout on Air" button on the top right of the page.
Enter your YouTube channel information.
Start hanging out. Your Hangout will automatically pop up on the Hangout on Air page as well as in your own feed. You can also share a post about it and send it to any followers you'd like to join.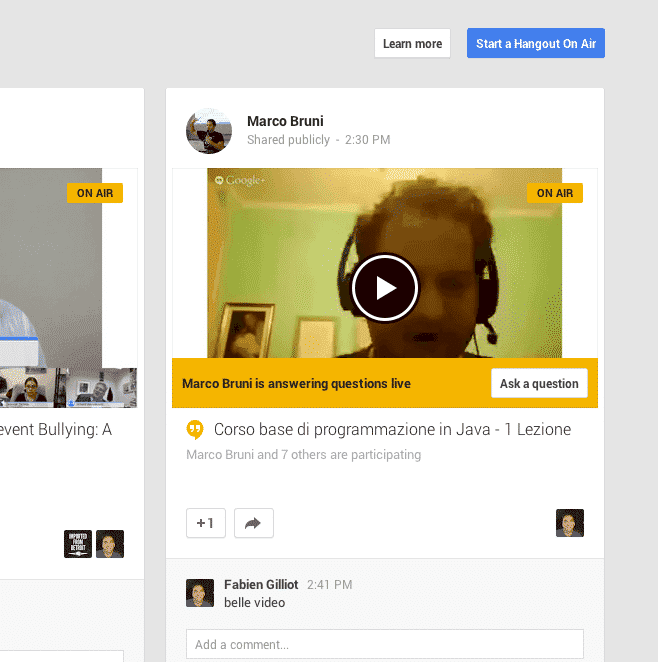 To start a regular Hangout:
Want to keep your Hangout small and private? On the Hangouts on Air page, click, "Start a Hangout Party" beneath your chat list.


Post a link to your page or invite followers directly as you set up your Hangout.
Start chatting!
4. Take Advantage of SEO Opportunities
No matter how many new products it builds, Google is still most famous for its powerful search engine. Not surprisingly, Google+ is a fantastic way to get found on Google, but only if you take a few key steps.
Get on Google+ Local
According to the research, 20% of overall Google searches and 40% of mobile searches are for local content. Making a Google+ local page will get you featured in Google's universal results as well as within Google+ itself, helping you stand out from your competitors.
Need proof? Just click "Local" in the g+ dropdown menu and type in a type of business you'd like to find near you.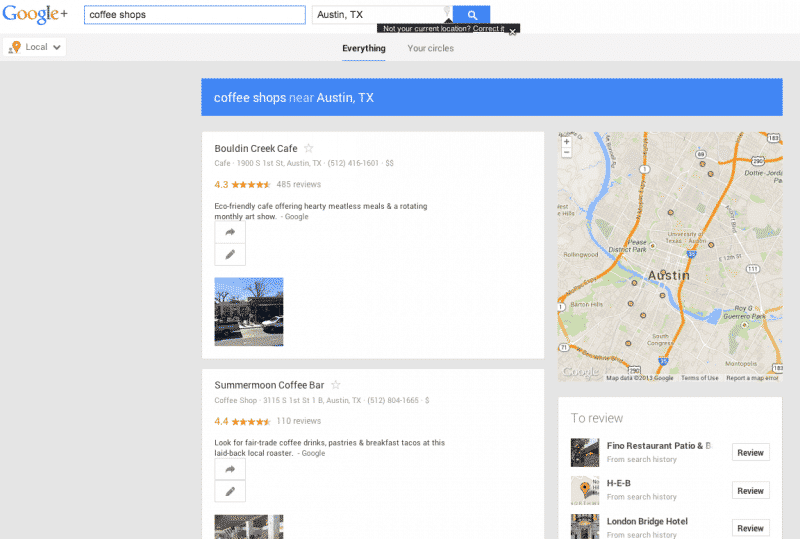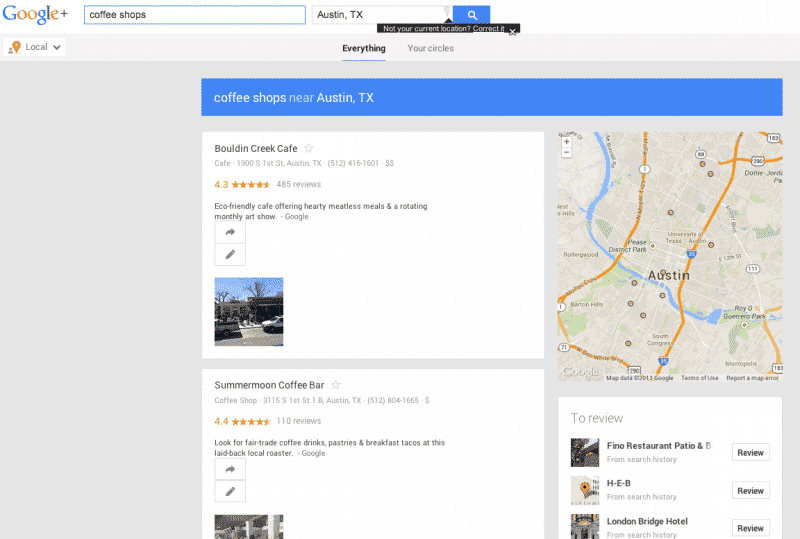 You can bet that the shops with complete and engaging profiles get more reviews, and you can also bet they get even more customers.
To make a Google+ Local Page:
Choose "Pages" from the G+ dropdown menu.
Click the blue "Create a page" button.
Select the "Local Business or Place" option.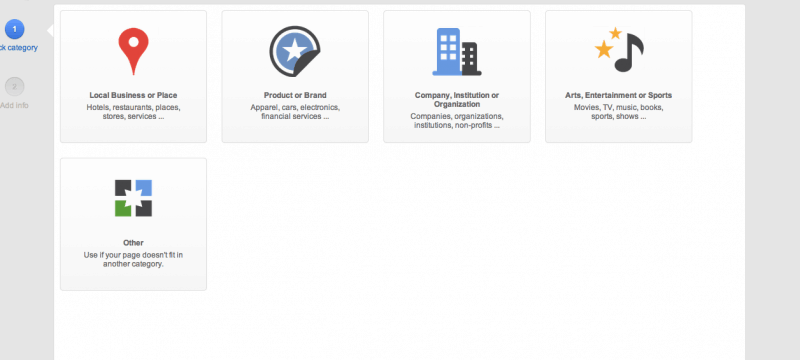 Enter all of your business' information, submit your profile and complete the verification process.
Start sharing your page left and right!
Flesh Out Your Profile and Page
Of course, one of the best things you can do for both your profile and your business page is to make it as complete as possible, sneaking in business keywords where you can. A few things you'll want to look out for:
Your headline: While it's nice to be catchy, give preference to a headline that succinctly communicates what you do and incorporates a keyword.
Introduction: Make sure to link to your website and any store pages. This will raise your search rankings and it's also just essential for building your brand with customers.
Other social media pages: Google provides space for you to enter your other social media sites and rewards you for doing so.
When incorporating keywords, keep it natural: Thanks to Google's semantic search, stuffing your profile with keywords that sound unnatural just won't work. That actually makes completely filling out your whole profile all the more important; the more information you provide in a professional or conversational tone, the more naturally you'll speak about what it is you do, the more both your customers and the search algorithms will reward you.
The Takeaway
There's no doubt about it: Google+ has evolved into a powerful platform, one that every business would do well to use. Check out this helpful Google+ guide for more information on getting started. So go ahead and fill out that profile, start mastering these new social tools, and watch the customers pour in.
About the Author
Jessica Edmondson is a writer and content marketer from Distilled, a creative online marketing agency. She particularly fancies learning more about social media. You can give her a shout by tweeting her @jsedmond or circling her on G+.