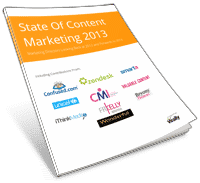 This is an excellent report from the folks at Virally which investigates the current state of content marketing and provides solid tips and advice on how to get the most out of your content marketing this year. The report has been compiled by interviewing leading content experts from:
Unicef
Confused.com
Chartered Management Institute
Zendesk
Smarta
This report is packed with case studies, best practice, tips and advice.

This article has been contributed by another writer, blogger or website. The content is their copyright and represents their views.