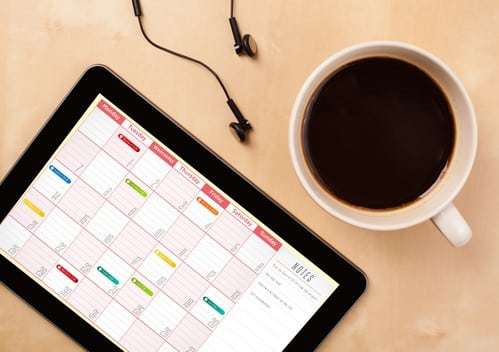 Think about the amount of time your business spends coordinating a trade show presentation or designing and distributing direct mail. Now envision the monetary and human resources it takes to staff a telemarketing team. Your social media efforts may currently be limited to posting on Facebook once in awhile, but Business 2 Community reported in 2015 that social media produces nearly double the marketing leads of direct mail, telemarketing, trade shows and pay per click advertising.
Writing down and measuring goals, including those related to social media for your business, significantly increase your chances of success, according to a study conducted at Dominican University of California. It's vital to put some serious strategy into social media efforts to maximize your return on investment. An editorial calendar helps you measure progress, stay organized, save time and better engage with your followers.
Set up a Social Media Editorial Calendar
A social media editorial calendar can be something as simple as an Excel spreadsheet that lists all the social network communities your business is a part of and what messages you plan to send out for each of them. Social media management site Hootsuite offers an example of what a social media calendar looks like, and it has a free tool to schedule posts. For teams that have more than one person working on social media, an author column on the calendar helps prevent duplicate posts.
Decide What Type of Media to Post for Your Audience
To maximize the content your brand produces, make a list of all types of media that might be enjoyed by your social media followers, such as:
Photos
Videos
Blog posts
Text-only posts
Polls
Infographics
Podcasts
Promotions
Then, analyze the audiences of each of your social media channels. Fluffy posts are inappropriate on professional networking site LinkedIn, while your Pinterest demographic may skew female and your Google+ network is male-dominated. Each social network should have a specific voice and target persona when crafting your messaging.
Choose Your Content
Be mindful of how big events in your community may flavor messaging. For example, vodka brand Ketel One used the Super Bowl to post a game-themed recipe on its Instagram page. While using a social media editorial calendar to plan at least a week in advance is optimal, the calendar should also allow for flexibility and the quick editing of posts based on breaking news or trending hashtags.
Entice followers to become a fan of your brand on multiple networks by posting unique messages on each network. If they see the same post on seven networks, they have no incentive to follow more than one.
If you're running a promotion or have a fantastic blog post to distribute, avoid over-saturation by spacing out posts. This allows each post to spread organically on its own and not make followers feel like they're being spammed.
Use a Social Media Editorial Calendar for Analytics
One of the most significant advantages to using a social media editorial calendar comes from its analytics qualities. After you set benchmarks by measuring the effectiveness of posts based on engagement, you can set new goals for the following week or month. Experiment with messaging (calls to action versus questions, etc.), times of posting (early morning for Facebook posts and nighttime for YouTube) and channels for messaging (Vine or Instagram for videos).
Each week use your social media editorial calendar to point out successes and misses. Use the best-performing posts to optimize your strategy. The social media editorial calendar also helps you show return on investment to business stakeholders, as they can see which posts were instrumental in directly impacting sales. To convey this, use your website analytics (such as Google Analytics) to create social media campaigns based on links. Insert those links into your calendar and add in results.