Small business owners are failing to do enough online in order to make their firms succeed. According to a new study by BT just over half of Britain's small business use the Internet However, four out of ten companies do not have a dedicated web site and one in five British businesses have no Internet presence at all.
What is revealed inside the report is the fact that even though the majority of small businesses say they do have some online presence, less than 10% say they are doing anything with that. Looking at the table below taken from the report you can see that only 8% of small businesses have any kind of online strategy.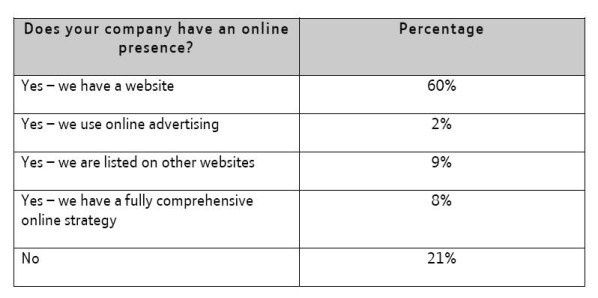 Source: http://businessclub.bt.com/downloads/businessandtheInternet.php
This is the same as printing a pile of brochures and leaving them in the corner of your office in the hope that one day they may come in useful. Business owners would question spending on physical resources that had no return on their investment. But when it comes to the Internet, either they simply don't bother or they don't care.
So why is it that the vast majority of small businesses are ignoring the true value of the Internet – even though three quarters of them say it is very important to their business? The answer lies buried in the BT report. Business owners say that the Internet has reduced the personal nature of business. One of the reasons people set up their own small business is because they like people. The Internet appears to reduce the value of the interactions they seek with others.
Another reason is that business owners do not understand the Internet enough – they feel it is a technological "thing", without appreciating it from the business perspective. Less fear about the technology would certainly help. So too would assessment tools to help businesses work out their return on their investment on the Internet.
But unless British small business grapple with these essential tasks – and soon – they will find they are losing out to competitors from other parts of the world. British business owners may bemoan the lack of face-to-face working, but other business cultures do not care about this so much. They will use the Internet to take customers away from Britain's small businesses. No longer can Britain's businesses neglect the Internet, or merely set up a web site and do nothing with it. Act now, or you will lose your customers to International competition before the year is out.