Researchers at the Center for the Digital Future at the University of Southern California have just published their report on the consequences and benefits of children going online. However, embedded within the report are some interesting facts that every online business needs to think about.
Firstly, the annual study shows a dramatic shift upwards in the use of "online communities" of all kinds. Plus it reveals the kind of online groups that people are joining. Even though "social networking" sites are popular, the researchers have discovered that the most popular online communities are those related to specific hobbies.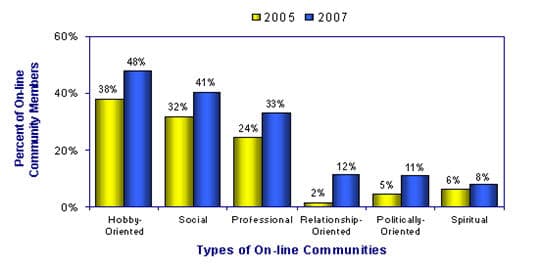 What this tells us should not be news, really, but it is…! Internet users are interested in specifics – not generalities (as the graph above shows – taken from the research web site). If you are a train spotter you want to join a group of like-minded train spotters, not a general group of people and then have to hunt for the train spotters.
In other words, the Facebook model of all things to all people is clearly not pleasing the majority. Add to that the recent revelation of a loophole in the security at Facebook and you might begin to think its days are numbered. Perhaps they are. However, if they take the example of Ecademy, things should be OK.
Ecademy continues to thrive because it is focused and because of its huge network of topic specific clubs. They may not be "hobbies" as the USC study suggested, but it points to the fact that social networking's future lies in ever more specific groups, rather than general groups.
So what does this mean for online businesses? It suggests that you need to set up, or take part in, relevant clubs. Say, for instance, you were a mobile phone manufacturer. Where would you put help information? On your own web site? Yes, but where are people looking for such information? Well, not on your web site. Instead, as the research shows, people are beginning to get focused on the community nature of the Internet.
So if I were a mobile phone manufacturer I'd have a user group for each model on Facebook, I'd have a club for my users who happen to be Ecademy members, I'd go along to Marzar and upload some documents and set up a group. In other words, rather than trying to get your people to come to you, use social networks to go to your people.
Far too many business web sites are standing on the sidelines trying to attract people over to them. The problem is, those people are much more interested in what they are doing. If you want to get their business, you have to go over to them. And they are spending increasing amounts of time in social networks and topic specific groups and forums. So that's where your business needs to be as well.