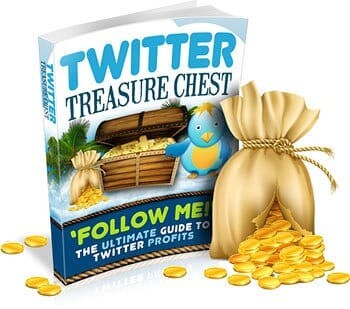 The Twitter Treasure Chest is an amazing book that provides you with a clear plan on how to get the most out of Twitter – and make money from it. This book takes you through the basics of Twitter and also helps you work out a plan for marketing via Twitter and making money as a result. Here's what you get inside Twitter Treasure Chest:
How to pimp your profile so you magnetically attract ANY person who comes to see more about you!
How celeb hunting can get you a load of raving fans and turn you into the celebrity…
The single biggest mistake people using Twitter for profits make, and how that will end up costing you money not making it (I've done it too!).
The drop-dead gorgeous free application that sits on your desktop and filters out the 'tweets' from your friends so you don't miss a thing
How to use Twitter to give you the most accurate and profitable research you've ever had, handed to you on a silver platter with a little napkin to wipe the drool off your face from the prospect of all that extra money…
Techniques to build followers so fast I had to put a warning in there to pace yourself so Twitter doesn't think you are an automated robot!
The three GOLDEN rules of Twitter that can make or break you…
How to use subconscious marketing so that all the other marketers get called out for spam and your following just grows and grows!
You can't afford to miss The Twitter Treasure Chest – buy it for just £13
{paypalbutton id=5103856}