People searching for restaurants online will now be shown localised results with maps to potential eating places, thanks to the latest innovation from Google. Indeed, if you are looking for anything that could be found locally, Google will now insert a map into the search results for you, largely by guessing where you are (unless you improve your search with a town name, for instance).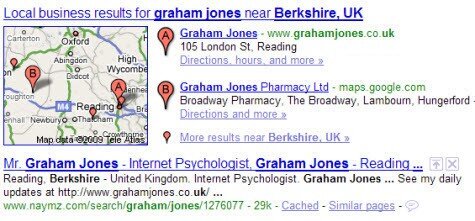 This is a significant step forward – much more than Google itself might believe. This is because even though the Internet has brought us global business, friends abroad and contacts with relatives in other countries, the stark truth of the matter is that almost everything we do is local, not global.
Take the "international crime wave" for instance. According to politicians (who always like to scare us about crime anyway) there are "global criminal gangs" who are preying on our every move. Apparently, it's all getting worse, thanks to the evil that is the Internet. However, as most police officers will tell you, the vast majority of crime is committed by local people, acting in local gangs. A study in California in 2008 showed that one  typical network of criminals was, on average, a group of people who all lived less than four miles away from each other. On British television last night, the programme Traffic Cops revealed that in one Welsh town crime went down by 90% when just one youth was locked up…!
True, there are international gangs, but the fact is most crime is local, committed by groups of people who act and work locally together. Even though they may "network" with other more geographically spread criminals once in prison, their activity upon release becomes local again.
But what's true for criminals may not be true for other people, of course. So, what about those millions of happy online gamers? They can connect and play with anyone at any time of the day or night anywhere in the world. Indeed, this is often cited as one of the many benefits of online gaming – you can experience playing your favourite game with someone from a different culture and form international friendships. All very well in theory – but, as a new study of online gamers points out, the vast majority of gamers were playing online with people who were only 10km away from each other. They could have walked to each other's house…!
So, what about business? A study from three years ago indicated what is happening. Trend analysis showed what people were really clicking on, back then. There were three clear leaders – social networking, blogging and LOCAL web sites and information. Recent research from the University of Texas at San Antiono suggests that if we have a locally based self-identity we prefer local products and services. Only people who identify themselves as global prefer global suppliers.
Ask your customers a question. Where are you from? If they say "the world" then you can offer yourself as a global business. If they give the name of your county, or town, then your offering needs to be much more local. Few people will tell you they are a "member of the world"…! Most of us have a local identity and therefore most of your potential clients will be looking for a local supplier. Your web site, therefore needs to emphasise your local offering.
There has been considerable emphasis over the years on the globalisation benefits of the Internet, of how it is bringing us all together as one happy global village. Nice theory. Most businesses do most of their work for local customers. True, you may have some international business – and yes, there are exceptions – but, on the whole, business is local.
At long last Google has today recognised this, with the localisation of search results. It will do every business some good to follow Google's lead and realise that by focusing their web activity on local people, growth is much more likely.