Toy retailer, The Entertainer, has chosen "smartFOCUS", a leader in multi channel marketing software, to improve the company's email and digital marketing capability. The deployment of the smartMARKETER eChannel software platform from smartFOCUS is part of a concentrated drive by The Entertainer to achieve a more cohesive marketing strategy by integrating online and offline channels, led by new online marketing manager, Zoe Greenall.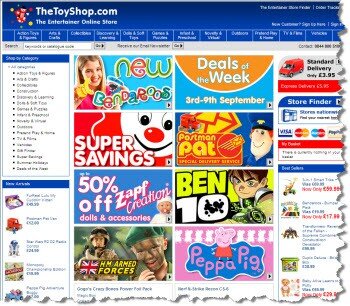 The Entertainer is one of the largest retailers of toys in the UK. The company owns 47 high street stores, and websites TheToyShop.com and The Gadgetshop.com. The relationship with smartFOCUS represents the first step in The Entertainer's new on-line digital marketing strategy. Segmentation and targeting will form the backbone of the approach, with the overall goal to achieve a one to one relationship with its customers.
The Entertainer had outgrown its previous marketing solution, which was failing to achieve the email deliverability rates, and as such not optimising results through on-line channels. The Entertainer wanted to establish more segmentation and support better targeted campaigns to further improve results, a capability no found in typical email marketing solutions. With the implementation of smartFOCUS complex customer segmentation and targeting is made easy, enabling the on-line marketing team to deliver dramatically improve results.
Efficiencies will also be delivered to The Entertainer, as smartFOCUS helps reduce the time and cost of campaign execution. For example, when sending newsletters the team can now take advantage of the smartFOCUS content management system, reducing its newsletters from two to one. By using the solutions content management, a single newsletter can now serve different Toyshop.com and Gadgetshop.com customers with personalised and relevant information dynamically, rather than producing two newsletters and sending them out separately.
Zoe Greenall, online marketing manager for The Entertainer said, "The smartFOCUS software has increased the flexibility of our marketing considerably, removing many of the restrictions we faced, for example, broadening our ability to deliver to a wider on-line audience with Hotmail accounts. Even at this early stage, campaigns are faster, cheaper and more effective. The combination of the digital expertise and service teams at smartFOCUS and our use of its software are key elements of our strategy to increase marketing integration across the Company and build a strong relationship with our customer to improve marketing results.
Bryan Black, sales director of smartFOCUS DIGITAL, said: "The Entertainer understands the importance of a cohesive marketing strategy, and the power of digital communication. We are proud to be playing a key role in helping The Entertainer to communicate much more effectively with its customers."