The old adage that 'people buy people' was well and truly proved at the industry's first Social
Media in Financial Services Awards last week with three popular winners being announced for:
Social Media IFA/Financial Adviser of the Year 2010
Social Media Provider/Supplier of the Year 2010
Financial Services Twitter Personality of the Year 2010
The awards were hosted by the industry social networking site IFA Life as part of the annual Social Media in Financial Services conference, which has now become a firm favourite on the exhibition calendar.
Founder of IFA Life and Financial Services social media expert Philip Calvert said today:
"The winners of our first awards proved that 'people buy people' online just as much as they do face- to-face, and effective use of social media in Financial Services is not about selling – but about interacting and engaging with your target market."
The winners were
Social Media Provider/Supplier of the Year 2010
1. Jaime Steele, Fleming Steele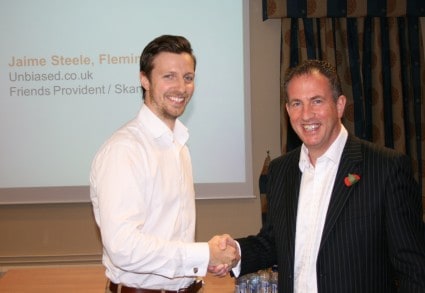 2. Unbiased.co.uk
3. Friends Provident / Skandia
Financial Services Twitter Personality of the Year 2010
1. Howard Bullock @HowardBullock
2. Holly Cook @mstarholly
3. Richard Allum @Theparaplanner
Social Media IFA/Financial Adviser of the Year 2010
1. Pete Matthew, Jacksons Financial Services
2. Ian Green, Green Financial
3. Tina Weeks, Serenity Financial Planning / Martin Bamford, Informed Choice
Winner of Social Media IFA/Financial Adviser of the Year Pete Matthew of Jacksons Financial
Services in Penzance, Cornwall said today:
"I'm delighted to be the inaugural winner of the Social Media IFA of the Year award. My education website MeaningfulMoney.tv has taken off in a way I never could have hoped for, and that is down to the power of Social Media to spread the word. I have also met some influential people and made some good friends in the same way, broadening my professional network."
Philip Calvert added:
"The industry is finally waking up to the realisation that the Internet will, in a matter of a just a few years completely dominate distribution and communication in Financial Services. Consumers of all ages and demographics are starting to use the web as their primary source of information on all financial matters."
"This is a great opportunity for financial advice professionals, because with social media tools they now have powerful applications at their disposal to get the attention of consumers and to add value to their existing clients."
"At the conference, speaker after speaker revealed insights into the unstoppable force that is the Internet, and left delegates in no doubt that issues such as RDR are a relative sideshow compared to the impact the Internet is starting to have on the industry. Some of the technology that is on its way from the US will radically change consumers' relationships with money and with financial advisers."
Best Practice
IFA Life is launching a consultation with its members and the wider Financial Services industry to develop a statement of Best Practice for the use of Social Media. This will result in the production of a set of guidelines to help both Providers and IFAs alike to use online networking tools to best effect and to enhance the perception of the industry's professionalism and expertise.