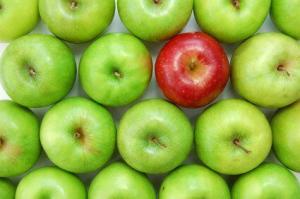 Getting people to buy from your website can be a bit of a problem. Even though it is convenient, one of the problems is the fact they can compare your offers to other similar products within a blink or two of an eye. Competition is at its highest and prices are being pushed down all the time. A couple of years ago ebooks were being sold for $97; nowadays it's $7 or less.  There are price comparison sites forcing retailers to offer even lower prices and there are bloggers and Facebook users advising people not to buy certain items. For anyone trying to sell online it is rather like the Rubik Cube; as soon as you start to get it all sorted, something else happens and it all unravels.
There is also another problem nowadays – the number of people selling the same thing.  Years ago you were the only act in town. You could sell your products and services to all your target customers locally and anyone else selling the same things was happy with their geographical coverage. Now, thanks to the web, all that has gone. Whilst you may still be able to protect your local marketplace somewhat, any one of your target customers could find what they are looking for from someone else, perhaps miles away.
Take for instance the humble office supply of stationery. Years ago there were just a couple of places to get office stationery – a local specialist supplier and a high street bookseller. Now there are places like Staples or Office Depot/Viking (the same company actually) as well as Ryman and a number of independent online retailers who all buy from the same massive wholesaler. On top of this, almost anyone with a website can become a reseller or affiliate for office products and many of the online stationery stores are built around affiliate links. Indeed, if you fancy some A4 paper for your printer just click here – it's that easy for anyone to sell you stationery online, even I'm an affiliate of Staples…! As they would say themselves "that was easy".
However, the mere fact that there are now millions of affiliate pages offering just stationery items online means that the competition is immense. And it is not just stationery – many other products and services are becoming similarly commoditised thanks to the web. For anyone selling online, the stuff they sell is just "ordinary" because so many other people are selling it too. Indeed, even if you are offering something quite special, such as a bespoke travel service for business executives – tough, there are hundreds of people online doing just the same. What was once seen as "special" is now just "ordinary".
That is a big problem for e-commerce stores. New research shows that, when it comes to spending, people are much more likely to spend on "special" things than ordinary. The study found that when it comes to budgeting, people are really quite good on working out their spending on normal, commonplace items. But when it comes to discretionary spending on exceptional things, people tend to underestimate how much they are spending and therefore commit more of their money to such items.
Because so much e-commerce these days is seen as "ordinary", people are less likely to spend as much as the store owners might hope. The only way out of that for the business wishing to sell more online is to make their items seem exceptional and special. The more you make your offers seem exclusive and unusual, the more people are likely to buy from you.