If I were to send you an email but you had never heard of me, then it is almost certain you would delete it. Even if you didn't delete it, you wouldn't rush to open it. When you look at email behaviour you can see that people ignore vast amounts of email they receive. Indeed, one in ten people get more than 300 genuine emails a day – not counting spam…!  Most people get around 50 genuine emails and 75% of these are promotional messages, rather than necessary information. If your business is marketing via email, then you face an uphill battle.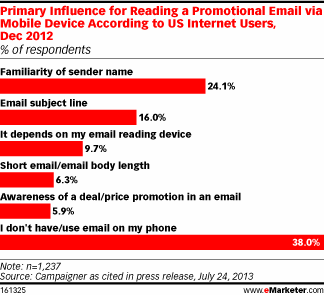 Even so, it is a battle worthwhile competing in. When people do open your email and your message is convincing, then the chances of gaining a sale tend to be higher for email opening than for website visits. In other words, if you get everything lined up correctly you are more likely to gain a sale from an email than you are from a web page.
But what do you need to do in order to get things all ordered correctly? New research from the email marketing company Campaigner shows the way. Their research showed that the number one way of getting people to open your emails was if they already knew your name. That means your emails have a higher open rate if you are well known to the recipients in advance.
Email marketers tend to send out millions – sometimes billions – of messages because open rates of just a handful of percent mean that in order to get the necessary volume of business they have to go for vast numbers of messages. The reason they need to do this is because most of their messages are never opened – because most of the people they are sending them to simply do not know who they are from.
Rather than spending money on sending out yet more and more messages, this new research confirms – yet again – that the best thing a business can do is to concentrate on getting well known, to concentrate on branding.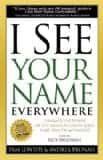 And branding does not mean your logo or what colours your website is built in. Instead, it means getting your name into the brains of your target customers so that when they get your email they know who it is from. That means "presence" in all the places where your target customers hang out – from social media sites, to search engines, to the "real world" such as at events where they congregate.
If you want to know how to do that, then look no further than "I See Your Name Everywhere" which explains how to put your name into the minds of your potential customers so that when they see an offer from you they immediately recognise who it is from. Following the advice in this book about public relations could help you increase your email opening rate substantially.