Banks suffer another devastating blow to their trust
Do you trust your bank? The chances are you have some doubts about the entire financial industry. Today banks in the UK and the USA have been fined £2.6bn for manipulating the foreign exchange system. The problem is so bad that in addition to this massive fine, the Serious Fraud Office is investigating several people. Some of them may be joining other bankers already in jail.
The announcement about the penalties against the banks comes hot on the heels of research about trust in the banking sector. The study from Harris Interactive found a decline in our view of banks. But most of the mistrust we have is based on experience. The massive amount of chatter on Twitter and the complaints made on Facebook appear to have only a small impact on our trust levels.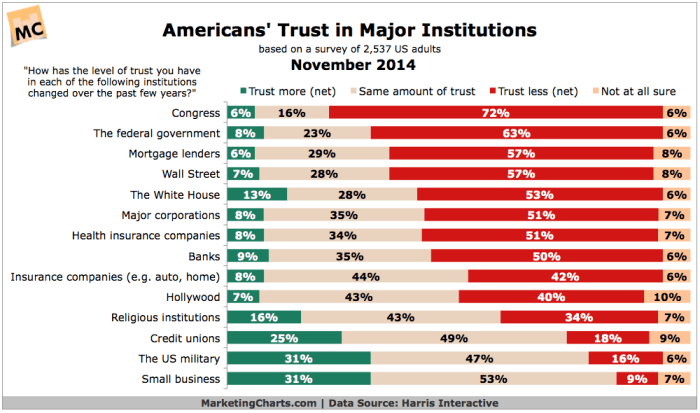 The Harris Interactive study follows earlier research from the PR company, Edelman, which found that we tend to trust smaller businesses more than we trust big firms.
What is clear is that big firms and big government tend not to be trusted. American banks can at least comfort themselves with the knowledge that they are more trusted than the government that regulates them. But compared with small businesses, big banks and corporations are just not trusted much at all.
It's not about the web – it's about your business
The findings of these various studies point to a central issue with trust – customer experience. Our experience of big corporations or government is distant. We have no real personal connection with them. Yet for small businesses we often know the owner and feel we have a much more personal relationship. Add to that the fact that most small businesses know that what separates them from bigger firms is the personal level of customer experience they can provide.
The reason that small businesses are more trusted is because we have a much better personal experience of them and what they do; plus they take a lot of care for their customers – they have to in order to stay in business.
Much is said about creating trust through the web and having a great social media presence, responding to customer issues. Indeed big corporations now spend billions of dollars each year managing social media so that they can have good customer relations.
But then they go and spoil that with poor quality products, dreadful delivery and penal terms and conditions. They are focused on the wrong thing. As the Harris Interactive study showed, it is not social media that's the problem, but what the company itself actually delivers in terms of products and services.
This means that if you want your online business to succeed because people trust you, then you had better get the fundamentals right first. A quality product or service and a great customer experience. Do that and you won't have to pay social media managers to deal with your Twitter feed. That's because the only messages you'll be getting are compliments.
These trust surveys point to one thing – it is about relating to customers at a personal level and giving them a great experience that makes the difference to how much you are trusted. Get the core business right and let social media look after itself.