By Lilach Bullock
Are you using social media marketing to promote your business online? Sometimes, it's not just about what you're posting, but what tool you're using. A good social media management tool can help you get better results from your marketing, at a much faster rate. In this post, I'm going to share some of the best social media management tools on the market and help you find the perfect one for your business.
The most important features to look for in a social media management tool
Whatever type of business you have and whatever your needs are from social media marketing, some features are essential:
Monitoring: monitoring can help you discover new opportunities for engagement, potential leads and help you improve your brand awareness
Publishing and Scheduling: depending on what social networks you're using for your marketing, make sure to get a tool that allows you to publish to most, if not all of them, and one that allows you to schedule updates for when you can't be online
Customer relationship management tools: keeping better track of your audience can help you improve your conversion rate
Analytics: checking your analytics regularly can help you improve your social media strategy. Most social media dashboards have analytics, although they are usually not as high performing as a tool that's dedicated to social media analytics exclusively. Still, it helps having essential information handy so that you can check it regularly and make changes to your strategy accordingly.
Team management capabilities: if you have multiple members in your team that are managing your social accounts, look for a tool that has strong team management capabilities: the ability to assign tasks, leave notes, check team performance analytics and so on.
Another very important consideration for businesses is, of course, the price. You can use a cost comparison tool to see how the major social media management tools stack up against each other based on their features and price. Make sure to look into what features you get for the plan you want – in some cases, you might have to pay extra for analytics reports, or for adding extra team members to your list, for example.
Let's go through some of the best social media management tools on the market right now, as rated by customer reviews in this infographic from Ian Anderson Gray and G2Crowd: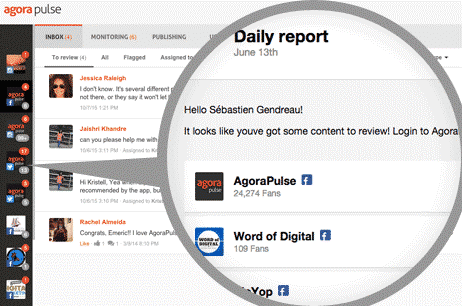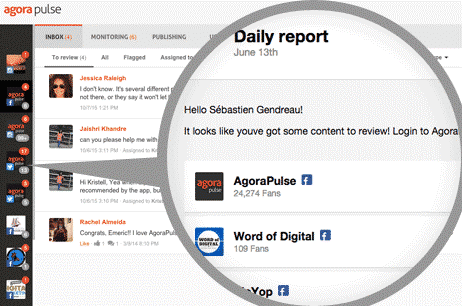 Agorapulse is an all-in-one dashboard that works with most major social networks. It has a very easy to use, intuitive interface and has some very good features:
Social Inbox: the social inbox is very similar to any e-mail inbox, where you get all of your social media notifications in one place. Out of all types of listing mentions, I think this is the best I've tried: you can see all of your notifications in one place and take action as you go through them, which makes it much easier to make sure you don't miss anything important
Publishing and scheduling: you can publish to several different social networks, as well as schedule content. What makes it stand out, is that you can also queue up your evergreen content, so that you make the most out of your best content. Another cool feature is the editorial calendar, where you can organize your scheduled updates for all your social profiles
Monitoring: you can set up monitoring searches, as well as add a list of keywords that you want excluded. There's also the option of getting results from specific locations only, or in a specific language and you can set up so-called moderation rules, where Agorapulse can take action on your behalf on mentions matching your query. You can also track Facebook shares and mentions and hashtags and places on Instagram
CRM: you can use Agorapulse to organize and tag your audience, see who your most active users are (including any brand ambassadors and influencers) and check out rich user profiles and all past conversations
Analytics: in terms of analytics, they offer some pretty good metrics and you can also create fully customizable PowerPoint reports
Sprout Social is another all-in-one social media dashboard, with many features quite similar to Agorapulse.
Social Inbox: just like Agorapulse, Sprout Social offer a social inbox where you get all of your notifications from your social channels
Publishing and scheduling: You can use Sprout Social to schedule and queue updates, and even set up multiple post times at once for an update. There is also an editorial calendar where you can visualize your scheduled content
Monitoring: you can monitor hashtags (Twitter, Instagram) and campaigns and get any results directly in your Social Inbox
CRM: with Sprout Social, you can organize your contacts, see past conversations on Twitter and view rich user profiles. You can also make notes and add contact details
Analytics: you can create unlimited reports, which can be branded and then exported either to CSV or PDF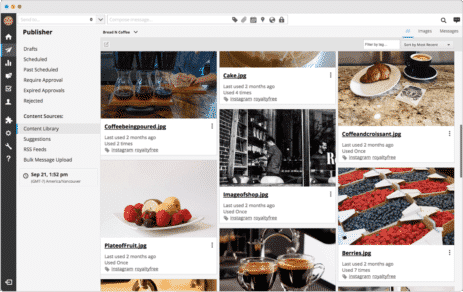 Hootsuite is arguably the most well-known and popular social media management tools, since it is one of the first to come out on the market. But is it keeping up with the needs of businesses and marketers?
Mentions: I have to say, I find social inboxes much more practical to use than Hootsuite's classic mentions stream. The issue with it is, that it makes it more difficult to tell when you're finished going through all of your mentions. You can however take action and reply, assign, retweet, like, etc. any update.
Publishing and scheduling: publishing and scheduling is very easy and the best part about Hootsuite is that it works with over 35 social networks (though this only helps if you're using some of the lesser known channels). They also have their own URL shortener that you can use and you can view your drafts, scheduled updates, past scheduled updates and much more.
Monitoring: for monitoring, you can easily set up streams for mentions of your desired keywords.
CRM: in terms of CRM, Hootsuite haven't really added many features. You can view lists of your followers and those who you follow and take some actions, such as add them to lists, follow and unfollow them, or block, mute and report them. Overall, it's not at the same level as the other two tools in this list
Analytics: Hootsuite offer reporting for social media, as well as for your links; the only issue is, you need to pay or upgrade your account to get many of these reports
Conclusion
As you can see, many social media management tools have quite similar features – at the end of the day, it's important to find the one that you're most comfortable with in terms of the software, or if you need specific features, find a tool that has them. What do you think makes for the ideal social media management tool? Which tools are you using to manage your social media?
About the author
Highly regarded on the world speaker circuit, Lilach Bullock has graced Forbes and Number 10 Downing Street with her presence! In a nutshell, she's a hugely connected and highly influential serial entrepreneur – the embodiment of Digital Intelligence. Listed in Forbes as one of the top 20 women social media power influencers and likewise as one of the top social media power influencers, she is one of the most dynamic personalities in the social media market and was crowned the Social Influencer of Europe by Oracle. Recently listed as the number one Digital Marketing Influencer in the UK by Career Experts.  She is also a recipient for a Global Women Champions Award (by the Global Connections for Women Foundation, GC4W) for her outstanding contribution and leadership in business.