Britons are most likely to send and share images and photos to their family and friends according to Send Anywhere, the unlimited and intuitive file sharing service, developed by Estmob Inc.
Analyzing the type of files that have been sent and shared in 2017 via its services from mobile to desktop as well as the website, Send Anywhere found that nearly half or 48% of the files that were sent and shared were images or photos. Video takes the second place as the most shared file type at 21%. Other files that Britons shared were audio, documents, and others. The result is not very surprising considering that in 2017 alone, it's predicted that 1.2 trillion photos were taken globally.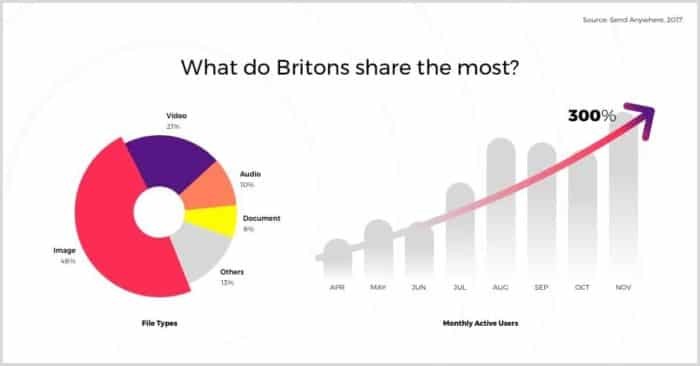 "People on average send 20 to 30 photos via their messaging apps, but the number of photos people send and share is increasing at a rapid rate. With Send Anywhere, users can send any number of photos or any large-sized videos without worrying about the size restriction or data," commented Seung-Hyun SON, CMO of Send Anywhere.
Send Anywhere officially launched in the UK in June and has seen explosive growth since, increasing its user base by almost 300%.
"We have seen strong growth among users in the creative industry, photographers, designers and videographers, people who handle large files daily and needs a service that is easy to use, secure and fast," said Seung-Hyun. "We continue to expect to see strong growth in the UK and we will engage with our core audience to improve the user experience."
Send Anywhere has launched the Send Anywhere Awards in September, partnering with the prestigious British Journal of Photography to find hidden talent and send one lucky winner to a dream destination of choice. The final winner, Sarah Pannell, announced in November will travel to Egypt and document the aftermath of Arab Spring in the area.
About Send Anywhere:
Founded in 2012 in Seoul, Send Anywhere, the brainchild of Estmob Inc. is a file sharing service that takes an easy, quick, and unlimited approach to file sharing. Easily, it lets you transfer any file type, across any platform, all without requiring signing up or logging in. Quickly, given network conditions, it finds the optimal network path to ensure the fastest transfer. As for unlimited, you can send any sized file, as many times as you want, all for free. Send Anywhere works across Amazon Kindle, Android, iOS, Windows PC and Phone, Mac, Linux, Web Widget, API, WordPress Plugin, and for Samsung Printers.