Books, articles and blog posts by Graham Jones

Sales Genius
is designed to help you sell more. It challenges established thinking about selling because it is based entirely on published research in peer-reviewed journals. There are 40 chapters, each based on academic research about selling, rather than on popular myths and ideas.
This book debunks standard ideas about selling including:
Close the sale – that's wrong
Start high and reduce your price – that's wrong
Customers worry about prices – no they don't that's wrong too
Throughout this book you'll discover the truth about selling both online and offline – all based on solid, scientific research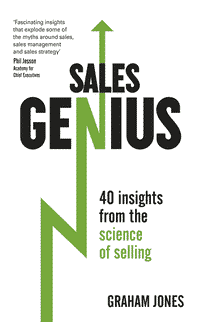 Click.ology is one of the most successful books I have written. It provides a five-step method known as "The CLICK System" which takes you through five psychological principles of selling online.
The book shows you:
Convenience is fundamental to online business
Likeability starts with the company showing it likes the customer
Information needs to be lengthy and in-depth
Customisation is vital as people expect a personal experience online
Knowledge of your subject helps build customer trust
Click.ology includes several case studies and examples of what works online and demonstrates exactly what you need to do in order to sell more via the web.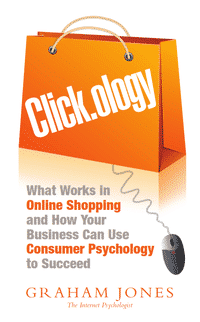 Other books that I have written include:
Effective Email – a guide to writing emails that have an impact as well as guiding you to an efficient email system, preventing inbox stress.
Doing Business on the Internet – how to use the Internet for business and how to ensure your business is set up to exploit the web
Using the Internet – an old book, now, but one of the first books to explain the potential for the Internet and how to use it
Promoting a Website on the Internet – how to get your website noticed
Protecting Children on the Internet – a complete guide to ensuring the safety of children and young people
Naming a Website on the Internet – a guide to choosing the right domain name so your website has impact