Social networkers love things like Facebook and MySpace, but as this discussion in Facebook shows people are getting frustrated with so many different social networking systems. If you want to network properly you have to be a member of everything and that takes time to keep all your profiles up to date.
For some time now I have said that social networking is in its infancy and that it will not really get underway until we have portable profiles and interconnectivity between the social networks. My theory is that anything you write in MySpace would also automatically appear on your Facebook page or in Ecademy or whatever.
Now, a service that is in beta stage is offering something approaching that. Called Profile Linker it allows you to have all your social networking activity on one page. There are some faults with the system, for instance it doesn't import all your LinkedIn contacts, but it shows promise.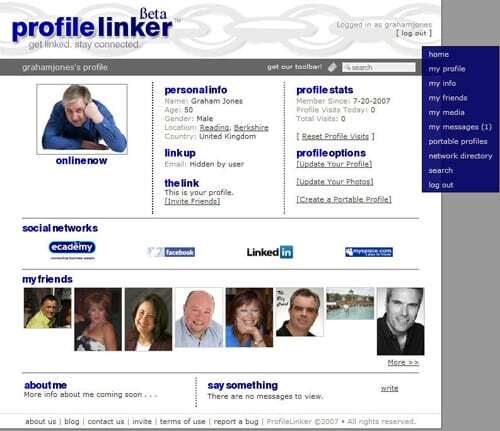 See: http://www.profilelinker.com
These services are clearly only the beginning, but already we can see the coming together of social networking sites into an interconnected service. When these services take off, that's where you will need to be. And it will save you time – one place, lots of networking.