Teenagers who have grown up with the Internet as part of their world are facing a potential danger, according to a paper presented at today's Annual Meeting of the Royal College of Psychiatrists.
According to Dr Himansu Tyagi, from London, social networking sites could lead to identity problems in some children and teenagers. He even linked social networking sites to the potential for suicide. The claims led to immediate news coverage on the BBC News web site – with more to come tomorrow (I have already had three interviews about it today for various media outlets).
Last week, psychiatrists were claiming that millions of people are addicted to the likes of Facebook and MySpace. That's real addiction, leading to physical symptoms if the individuals are unplugged from the Internet. Naturally enough, this claim also led to extensive media coverage as well.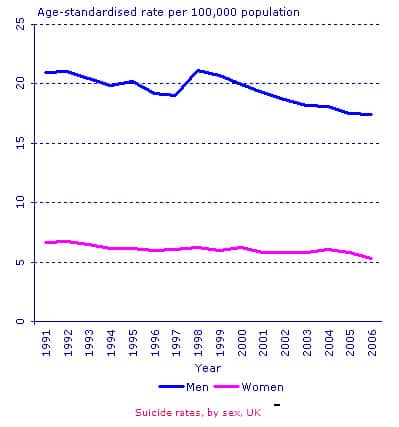 So, what's the truth? Well, yes, possibly the Internet can be damaging. But as the figures (above) from the Office for National Statistics show, suicide rates in the UK have been falling since the "Internet generation" was born. Far from the Internet leading to suicides, it may well be involved in preventing them. But we don't know; that's the issue.
So, wild claims that the Internet is a danger, that we are becoming addicted to social networking sites are really rather scaremongering. Here's what we know: we know that the most active people in social networking sites are the most active in all social circles, including offline. In other words, social networking is just another means of social expression. It is not a replacement for social activity and is therefore unlikely to pose the dangers we are supposed to think it does.
We also know that people are MORE honest in online forums than they are face to face. This is the reverse of so-called common sense; but the notion that we become less inhibited online is also not borne out by research.
The psychiatrists are very good at grabbing the headlines, but not so good at understanding the Internet it seems.