Small business owners believe social media usage is a complete waste of time. That's the conclusion from a study completed by Ad-Ology, a marketing research organisation. For each question asked, over half of the 1,000 respondents said that social media was "not beneficial". And in some surprising data, the research revealed that three-quarters of small businesses have yet to use YouTube and more than two-thirds don't use LinkedIn. In other words, in spite of all the mass media coverage, social media is largely being ignored by small businesses.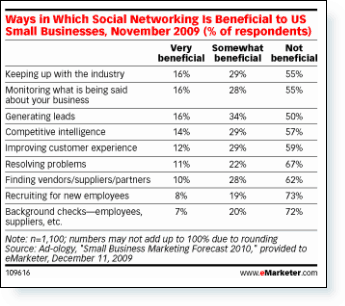 The evidence, however, is very much against these Luddite businesses. Research shows that the most profitable businesses during the recession are those which have put considerable effort into social media. In fact, the businesses that are doing worst are those which are ignoring social media. Naturally, the correlation between social media use and profitability does not actually signal a cause and effect relationship. Probably, what it suggests, is that the companies engaging with social media have several common features which make them more profitable.
They are likely to be quick to change and adapt to new circumstances, willing to try new things and to experiment, and well-informed and educated on technology. Sadly, these are things which most small businesses do not share. The Ad-Ology study actually confirms this; it shows that the two reasons why small businesses are not using social media are "our customers aren't using it" and "because we don't have the time to learn about it". In other words, "the old ways we know and which we don't have to learn any more about are OK". That's what the stagecoach operators said when the railways were introduced; whatever happened to them?
Back in the days of Dick Turpin, the stagecoach operators could also have said about the railways that "our customers aren't using them". But just because your customers are not using something does not mean it is a technology that you should not learn about. This new research suggests a massive "head in sand" attitude on social media – and that spells potential disaster for small businesses.
People are inevitably social and it is therefore no wonder that social networks and other social technologies are expanding at exponential rates. Small businesses may say their customers don't use social media, but it is almost certain they will. Hence, those small businesses that are currently learning and experimenting will be ahead of the game when more people start to use social networks and experience social media.
If you haven't set any New Year Resolutions yet, may be just one of them should be to start learning about and using social media in your business. If you do that, you will be ahead of your competitors and probably have a more profitable year ahead.