TheBlogFrog, a tech start up offering social add-ons (also called widgets) for blogs, is taking the mom blogger market by storm. The Boulder-based company offers social features for blogs that let blog readers ask each other questions, discuss relevant topics, and see each others' blog posts and Twitter streams, all without leaving the blog.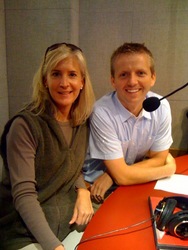 TheBlogFrog launched in Q4 2008 and is the brainchild of Rustin Banks, who developed the beta product during nights and weekends while still a full-time engineer at a local aerospace company. Banks said he got the idea from his wife, an amateur blogger who used her blog to keep friends and family updated on their growing family. He knew there had to be a better way for readers of blogs to interact. "There was no simple way for bloggers to enable real discussions and interaction on their blogs." stated Banks. "A blog might have thousands of like-minded readers but what if I want to ask another reader a question or share my own blog content?" asked Banks.
So Banks left his aerospace job and recruited co-founder Holly Hamann, a start-up marketing veteran and blogger, to help launch the service to the blogosphere. Within months, the social widget service had struck a chord with mom bloggers, who have become the company's largest market to date.
"Our social features really resonate with mom bloggers because they are inherently community and service oriented. Women and moms tend to be more social online than men and also tend to form stronger online relationships." said Hamann.
"Our widgets have been viewed more than 50 million times by over 800,000 blog readers and growth has been phenomenal". Said Banks. TheBlogFrog has quickly grown to almost 20,000 members, whose blogs all cross-pollinate each others' content via social widgets and community forums. This makes TheBlogFrog the largest, integrated network of mom blogs on the Internet. Growing segments of communities include blogs that serve military families, homeschooling, parents with special needs children, food blogs and those offering expertise on "going green" and surviving financially in a recession.
The company recently partnered with one of the most influential online mom sites, 5 Minutes for Mom, to launch a reader community for the tens of thousands of moms that visit the site monthly. The popular mom site is a Technorati Top 100 blog and was created in 2006 by twin sisters Susan Carraretto and Janice Croze. Within several hours of launching, there were over 45 discussions taking place in the online community with more than 500 replies. "We are thrilled to see our BlogFrog community connect our users in meaningful, interactive conversations." said Carraretto. "5 Minutes for Mom is all about bringing moms together and our community helps us reach that goal by integrating Web 2.0 style forums with Blog and Twitter feeds to create a truly active community." added Croze.
"There are 120,000 new blogs created every day and the total number of blogs is expected to double by 2012*. Says Banks. "Every person has a unique story to tell and people are gravitating to blogs as a way to share what they know. The social web is evolving from large, single-destination social sites to an integrated network of millions of smaller, niche blogs."
By cross-pollinating content within its network of blogs via the social widgets, TheBlogFrog helps bloggers increase exposure and traffic for their blogs, which enhances reader engagement and revenue opportunities.
About TheBlogFrog
Based in Boulder, Colorado, and founded in October 2008, TheBlogFrog brings social network capabilities to blogs via a family of community-building blog tools that enable interaction among readers. Readers can ask each other questions, see blog posts and Twitter feeds from other readers, and see trending discussion topics. TheBlogFrog's customers include bloggers and website owners who want to give visitors more ways to interact and who are looking to increase traffic and reader engagement on their sites.