The website CitySocialising, the UK's leading socialising and networking service for city professionals, today launched its search to find the UK's most sociable people.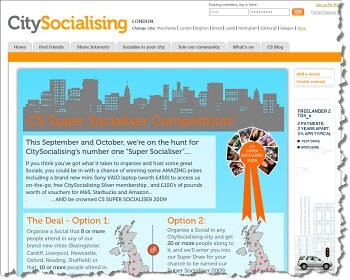 In their hunt for the CitySocialising Super Socialiser 2009, the networking site is asking its members across 19 cities in the UK and Scotland to organise and host great social days and nights out in their city and invite as many people as they can to join them.
Earlier this year, CitySocialising surveyed over 3500 professionals across the UK on their opinions of meeting new people and found that it took 64% of adults three months or more to make a single real world friend, even though online they may gather several hundred in the same period.
The network found that thirty six percent of those surveyed had moved cities in the last two years and of those, 86% had found meeting new people and making new friends "slow and difficult". When asked why, 33% expressed difficulty knowing where to go to meet new friends, whilst 27% said the biggest barrier was finding people who shared the same interests. Twelve per cent of those surveyed said that people were often "too cliquey" and therefore not open to opening up to new friendships.
"That's why we at CitySocialising decided to launch this competition, to encourage people to be proactive about meeting new friends, organising the kind of things that they themselves like doing and then reaching out of their comfort zones to invite new people to join them" says Sanchita Saha, 33 year old CEO and Founder of CitySocialising. "It's an ideal way to meet new people who like doing same things as you and gives great results when it comes to forging new, real world friendships. As our study revealed, there can be barriers to meeting new friends such as knowing where to go and how to meet people – with our Super Socialiser competition we're challenging people to get out there and take control of their social lives."
The competition runs through September and October and two prize draws to win the latest mini Sony VAIO (worth £450), £150 M&S, Amazon and Starbucks vouchers as well as free premium membership to CitySocialising will be held on Monday 9th November. Plus, all entries to the draw receive a month's free premium membership to CitySocialising.
To enter the draws, entrants need to create a social event or activity on the CitySocialising site, and get 8, 10 or 20 or more people to attend. For more information, visit: http://www.citysocialising.com/competition/