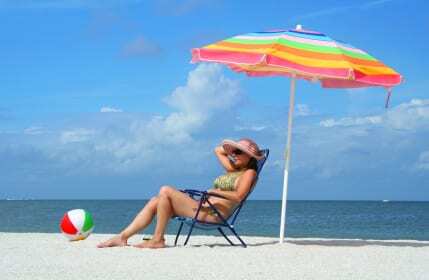 Sunbathers were out in force in the UK this weekend as the schools finished for the Easter break and the sun shone brightly. The smell of newly mown grass filled the air and the slip-slap noise of sun-cream being applied could be heard up and down the country. Spring has arrived, or perhaps Summer is here early. And online, the newspapers are full of pictures of people sunbathing, enjoying parks and splashing about in the water. Phew what a scorcher…!
When you look at those online images you almost certainly feel better and more positive. There is a clear link between looking at something and the mood it helps create in our brain. Indeed, without such a link advertising would completely fail and the movie industry would be just a dream. So why is it that so many people seem to believe there are things which can only be done in the real world, where the online world does not have the capability to recreate the experience? In many business meetings I go to people say that there are limitations to what can be achieved online; business people are erecting barriers all the time it seems, rather than seeking opportunity.
The lack of vision for the potential of online technology is made stark this month with the publication of new research on the teaching of dance. Obviously, dance is a three-dimensional activity which needs a kinaesthetic approach where you "feel" things. It requires considerable practice to engender muscle memory and it needs the skilled advice of a teacher who can see all around your body to help you get every move just right. This physical activity hardly seems the kind of thing you can learn online, in two dimensions. Wrong.
The research found that by using online instruction and feedback, dance and drama students were able to improve their abilities. Indeed, according to judges of their work, the online learning led to "significant improvements".
This suggests that we gain a lot more from the online world than we might think. After all, Starbucks sells coffee online. Just because they can't pour it out of your screen and directly into your mouth, does not mean we don't buy coffee as a direct result of our online connection with the company. Sometimes, though, business owners think that because their products and services are "real world" there is no way they can be delivered online. So, they simply have a "brochure" online, getting people to contact them so they can deliver the material offline.
But as this new research suggests, stuff that we logically think cannot be delivered online clearly can be. We should not allow ourselves to be limited by thinking that online cannot deliver things because they need "real world" engagement. As the pictures of beaches and playing in parks can make you have a sunnier disposition, so it seems that connections can be made between online activities and three-dimensional ones. In other words, don't limit your online business potential by making assumptions that you cannot deliver your material online. The chances are much more stuff can be delivered online than we currently think.
Related articles