The candidates in a Presidential Election in the USA spend millions of dollars trying to garner votes. They have TV advertising campaigns, they spend months "on the road" to meet the people and they are never out of the media spotlight. Similarly, big business spends billions of pounds each year in advertising, sponsorship and sales promotions all in a bid to get your custom.
But, it could all be a waste of money. The politicians may simply be pouring money down the drain whilst the corporate marketers could simply be reducing the profitability of the firms they work for. Why? Because it seems we take so little notice of it all.
A recent study of American voters, for instance, shows that the main influence on who to vote for is what their friends and neighbours are going to vote for. Look at a voting map of the USA and you see great swathes of Democrat support on the coastal areas, with massive tranches of Republican support in the South. Over in the UK, the political map is coloured according to the region of the country, with the North East, for instance, being solid red for Labour, whilst the "Shire" counties are bright blue for the Conservatives. It turns out that the reason for these regional differences in the UK and the USA is simply that people vote that way because their neighbours do. In other words, birds of a feather and all that.
Essentially, it is more evidence that we are strongly influenced by our social groups. And this research comes hot on the heels of a study about online business which demonstrates that consumers are most influenced – you guessed it – by the views of their friends. What people really want on your website, it seems, are reviews from their friends who have bought your products or used your services.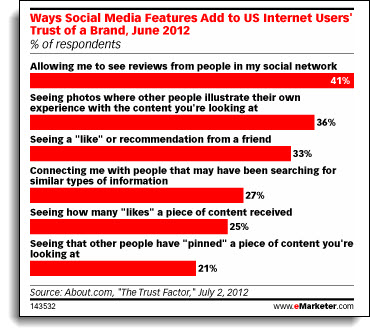 When people see a review from someone they know they trust your products and services much more – and trust is what sales are based on. Reviews from friends is the number one way of helping to establish trust online, it appears.  Hence if your website does not include reviews of your products and testimonials of your services, then you are significantly reducing your chances of increasing sales.
Make sure you have the opportunity for people to submit reviews and testimonials and make sure your website shows off those reviews.  As the research shows, this is what people are really looking for – plus it will increase the chances of sales. You'd be daft not to do it – unless you are an American Presidential Candidate and you have a massive amount of cash to spend on advertising..!
Related articles