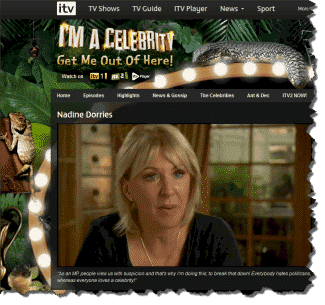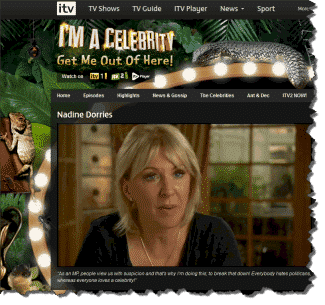 Controversial MP Nadine Dorries has arrived back in the UK after a few weeks away from parliament "starring" in the ITV game-show "I'm A Celebrity…Get Me Out of Here". She went off to the Australian jungle amid a blaze of criticism from fellow MPS who said she should be back here in the UK representing her constituents. She was immediately stripped of the Conservative Party "whip" and senior Government figures lashed out at her behaviour. Of course, what the people criticising her did not reveal was that for most of the time whilst she was away Parliament was not actually sitting. Plus her main critic was doing so from his luxury holiday pad, thousands of miles from London.
Ms Dorries is a former nurse, turned businesswoman who became a director of the healthcare insurance company, BUPA before becoming an MP. She has twice been elected by her constituents returning increased majorities on each occasion. You only need a snapshot of her biography to realise that she has indeed been successful and that clearly many of her constituents think she is doing a reasonable job for them; otherwise she would have been unlikely to have increased her majority and enabled a swing away from her main opposition at the last election.
To her opponents in the Tory leadership, success is equated with towing the party line and supporting the boss, David Cameron. Yet in spite of not always being a true-blue and being a vocal and outspoken critic of the Prime Minister, she still gets elected. The Conservative leadership must dislike that because it goes against the grain.
It is an example where the perception of success and the reality are different things. We often believe that in order to achieve success in one walk of life we have to do what is the "right thing" and what other people have done to succeed. Yet, often, success comes about by doing something different or by behaving differently. To many people in the Mid-Bedfordshire Parliamentary Constituency the fact that Ms Dorries was prepared to eat ostrich anus as part of her "bush tucker trial" means she is a "real" person, unlike so many of the grey-suited political "yes men" clones who oppose her. Much to the disgust of Central Office she may well be able to increase her majority still further at the next election even as an independent MP.
Equally, many business people I know are somewhat disgusted by a fellow business owner who earns around £2m a year from his consultancy business WITHOUT any kind of web activity whatsoever. And that is in a sector where the prevailing view is that a website is "fundamental" to success. And remember when First Direct appeared on the scene..? The view at that time was the only way to succeed in the banking world was to have a branch on every street corner. First Direct has done remarkably well considering it has no branches…!
Sometimes, success is not about what you do, but about HOW you do it.
So, when it comes to the online success of your business are you doing things because they are deemed the "right thing" to do? do you do your online activities because everyone else in your sector does them? Have you put any kind of analytical thought into what you do online?
New research about the use of technology in the classroom underlines the point. This shows that using new technology in the classroom because it is the "done thing" has little impact. What matters most is the way teachers use that technology.
Equally online it is not the fact that you use social media, or that you use email marketing, but it is the way you use it. And often the best way to use it is in ways which other people are NOT using it. Being innovative, different and unusual is likely to make you stand out. Doing things the same way other successful people do it is merely making your business a clone, a "me too". After all, if you want to be an MP you could wear a grey suit, do the same as every other MP and blend into the background. Or you could be Nadine Dorries, the most talked about MP in the country.
And if you use online technology in just the same way as each of your competitors you will not be the most talked about business in your sector.