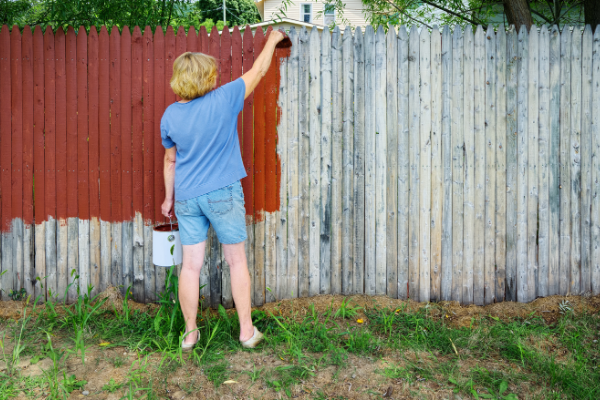 This week we had a couple of chaps in our garden for much of the week painting the fence. It hadn't been done for several years, so it took them a long time to get rid of the grime and muck before they could carry out the painting. As always, the preparation time was the longest part of the job. However, it soon became clear that the excessive time it took to prepare the fence for painting could have been saved if we'd had it painted every year.
While the painters were happily slapping the paint on the fence, I was indoors running a one-day consultancy session for a client in The Netherlands. Before the day began, I was concerned about how I would fill the time they had booked. Before the arrival of Coronavirus, I had visited them at their lovely offices in The Hague. We had spent plenty of time together discussing their online options. When I returned to the UK and checked their Internet activity a few weeks later, it was clear they had made significant changes following my consultancy. For instance, a year or so on, they had improved their Twitter following from around 25,000 people to almost 600,000, showing they were doing a brilliant job. So, I approached our session this week with some trepidation.
I was worried that they would think they were paying for nothing. After all, they had done a great deal of work following my advice, and it was clearly successful for them. I could only see a few "tweaks" they needed to improve their current online activity.
Inevitably, I need not have been concerned. We spent the whole day discussing plenty of elements of their online footprint. We tweaked something here, made a minor alteration there, and before I knew it, our time was up. I asked if the day had been helpful. They said it was tremendously valuable and that they would like to book another session in a year to check they were still on track.
Once I closed the Zoom call, I made some summary notes outlining the ideas we had produced during the day. There were only half a dozen key things they needed to do, plus a handful of smaller items. It didn't seem much for a day's work. Yet, the client was thrilled with what had been delivered.
I sat back, looked out of my office window into the garden and saw my shiny new fence. I suddenly realised that my client was behaving in a way that I had not done with my garden fence. Rather than waiting several years to see if their online performance was up to scratch, they were checking it out every year or so. That meant that the time taken to deal with changes would be a lot less than if they waited several years to consider what they were doing. Unlike my garden fence, which had been left to get into a sorry state, they were ensuring that their online presence only needed a quick "touching-up" every year or so.
While I was with my client, inevitably, some emails had arrived. So, once I had sent the summary of the meeting off to The Netherlands, I delved into my inbox. There was a request from a potential client asking if I could review their website. The company was thinking about a redesign and wanted to provide some information to web design companies. Their email told me that they hadn't done anything to their website for almost seven years, so they decided it was time for a refresh. I looked at their website and realised it was rather like my fence that had been unpainted for too long. There is a lot of work that needs to be done to prepare their website for the designers to do anything fruitful.
I see this a lot in business—elements of work that should be tended to regularly but are merely considered at infrequent intervals. When you only think about redesigning your website every few years, you leave it rather like my fence – about to rot. When you do not reconsider your social media strategy every year, you also leave it to wither, requiring significant investment at a later date. And if you do not look after your digital footprint on an annual basis, addressing the necessary changes in one colossal effort after several years takes more time than necessary.
My clients in The Netherlands had the right idea. Even if there seems nothing much that needs doing, regular checks and actions mean that there is never a massive task in the future. Take Amazon as an example. Their website changes every year. If you were to look at their website from a year ago compared with today, you would see several significant changes. However, Amazon does not make all these changes in one go. That would be too much like hard work. Instead, there is a plan of small changes made every day. These changes accumulate, and as a result, the site is completely revamped from year to year without a significant effort.
There is a tendency to go for significant changes every few years in many businesses rather than progressive alterations over shorter periods. If you are a "big change" business, then you are like my garden fence. Leaving it unpainted for so long has created much more work, at a higher cost, than if it had been tended to every year. Ignoring reviews of your online activity for long periods also means you make more work for yourself and raise your costs.