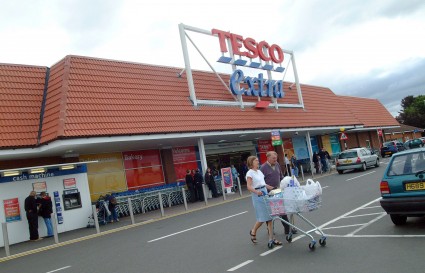 The people of Newbury, in Berkshire, must be keen grocery shoppers. In spite of the fact that this small market town has a population of only 30,000 people, Tesco has just opened it's third store there. There is a massive Tesco Extra a mile or so South, there is a sizeable "Metro" store right in the middle of town and now there is a new large "superstore" half a mile to the East. And this is on top of several small corner "Tesco Express" stores dotted all around the place. The residents of Newbury must be in Tesco Heaven.
Tesco is the world's fourth biggest retailer. In the UK alone its share of the grocery market is more than double it's nearest rival, Asda. They sell everything from a box of matches to furniture, as well as providing banking services, pharmacy, clothing, a mobile phone network and petrol. The company is also responsible for the first ever online shopping transaction anywhere in the world. One thing you can say about Tesco – love them or loathe them – is the fact that they are most certainly not niche.
Yet everywhere you look online, the advice – including articles on this website – is to "go niche". "Narrow your niche" is the mantra – instead of providing accountancy services, for instance, you are advised to suggest that what you do is prepare profit plans for diary farmers within 25 miles of Salisbury. So the theory goes, the more specific your offer online, the easier it is to reach out to those people and the easier it is for them to know what you do and recommend you.
But Tesco has shown us that in retail, at least, being general – not being niche – is where you gain true success. Indeed, the more general Tesco has become, the higher their profits and the greater their earnings per share. Not being niche has clearly worked for them.
And what they have achieved is a lesson to anyone with a blog. Here's the fact of the matter – the most successful blogs in the world, such as The Huffington Post, Mashable or BoingBoing are not niche. They are all generalised. Huffington carries opinion pieces on a wide range of subjects from religion to entertainment, Mashable looks at the entire world of social networking and modern technology which is used socially, while BoingBoing covers all sorts of stuff from arts and culture to gadgets and technology. These are amongst the world's Top 10 blogs, in terms of numbers of readers, and none of them are "niche".
So, when you are told to "narrow your niche" you appear to be moving in the opposite direction to the land of success. Both the Tesco example and the Top 10 Blogs listings give us the same message: success is equated with being general – not niche.
Imagine, for a moment you are an accountant offering profit planning to diary farms near Sailsbury. It won't be long before you own the market. That's great – but what next? Maybe you move on to profit planning for dairy farmers near Bristol and then when you've cracked that market perhaps you move on to Gloucester. If you narrow your niche, you can dominate that marketplace but you leave yourself a real difficulty – how do you expand your business?
If, at the same time, you have a blog which is narrowed, does that mean you now need a second blog for your second niche and a third blog for your third one? And so on and so on. Narrowing your niche online means you create a serious issue for blogging. Not only that, there is only so much you can say about dairy farming in Salisbury. Once you've said it, well, you've said it. But if your blog is about profit planning for farmers generally, you have so much more to say.
Blogging in a narrow niche might sound sensible and might give your blog focus; the problem is two-fold. Firstly, you immediately narrow your marketplace of potential readers and simultaneously you reduce the number of things you can write about. Being too narrow is a real hit on your creativity.
So, if you want success with your blog – open it up, become more general, "widen your niche". The result will be more readers, more awareness of your ideas and your business and more word of mouth in your favour (assuming you write good stuff…!). Take a tip from Tesco, continually widen what you offer with your blog – wide appeal equates with success.