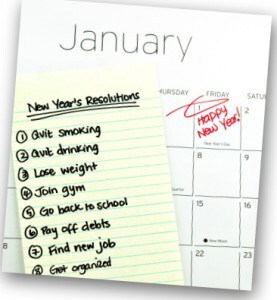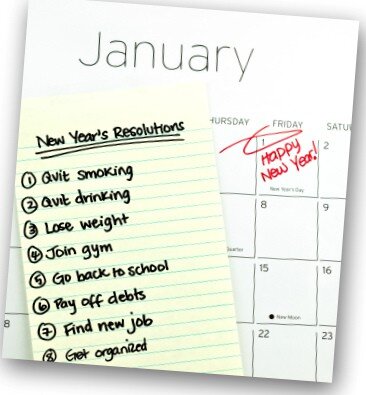 So we are mere hours away from 2012 – the London Olympic Year when Britain's hopes will be high and thousands of young athletes will be striving for their best performances so they can get their hands on that elusive gold medal. Meanwhile, at the other end of the athletic spectrum, come tomorrow the nation's obese will be swearing that they'll eat no more chocolate and that they'll lose three stone by this time next year. On top of that, millions of smokers will be resolving to give up and to be cigarette-free before they kiss their loved one on Valentine's Day.
However, for almost all the athletes the gold medal will be a distant dream. For the fatties, the crisps and choccies will win the day by the time Summer gets here. And as for the smokers…? Well, they'll still be huddled together outside the office, puffing away in the smoking shelter all telling each other "next year I'll do it".
Resolutions are hard, tough things to achieve. And the reason is they are all based on weak, "popular psychology". Indeed, it is much the same piece of psychology upon which "goal setting" is based. The truth of the matter is that targets, goals and visions of achievement only work for a small percentage of people – whose personality is target-oriented. Most people are not in the least bit turned on by goals. Yet, every business book you read on success or achievement tells you to "set goals". You try – and fail. So you get another business book which tells you to "focus on your targets". So you sort them out, focus on them – and fail again. And so it goes on. The authors don't understand the plight of the people who fail to achieve their goals because most authors are target-oriented people. Hence it works for them – why wouldn't it for you? Well, because most of us do not have goal orientation personalities.
For people who are driven by targets – most of them fail too. The target-oriented person who sets a resolution this year will also probably fail to achieve their desire to lose a certain amount of weight, for instance. Why? Because much of the research on success shows that only massive, audacious, huge goals really work. Simply having a goal of losing a couple of stone may trigger the target-based personality types towards success, but often that success eludes them. What they really need is a goal like "lose three stone by April and then compete in the Olympics in July". In other words, for goal oriented people, only the seemingly impossible goals actually work and produce results. The notion that you should have "SMART" goals in your life is sheer nonsense. Specific, Measurable, Achievable, Realistic and Timely goal setting means you tend to under- set what you could actually achieve. Massive, seemingly non-achievable goals are the ones that lead to most success in the target-driven person.
So, if you are a goal-oriented person, your SMART resolutions will not work. And if you are not driven by goals, resolutions will not work anyway for you. So, they are frankly a waste of your mental energy and time.
Unless…
There is another way to look at this.
Instead of setting goals and targets, set processes. They work for all personality types.
So, for example, instead of saying "this year I'm definitely going to write a book and add six new sections to my website" say something like "this year I'm going to do some writing every Thursday morning". If you set up that kind of process you will find you probably have written a book (much faster than you thought possible) and you will also have produced all the extra content for your website as a result too. Similarly, instead of saying "I'm going to get 10,000 Twitter followers this coming year", say "I'm going to send one Tweet every morning" and you'll end up being more successful.
What this means is that if you only have small resolutions, such as finding half an hour for writing every Thursday, then you will achieve much, much more than setting some kind of seemingly SMART objective. And, process style resolutions will work whether you are driven by goals and targets or you are not that kind of person.
So there you have it – permission not to set New Year Resolutions…!
Happy New Year…..!
Related articles