Supposedly, today is the first day back at work after the Christmas break; don't believe it. The first day back at work is not until next Monday. Every year the media tells us that the day after the New Year Bank Holiday will see the rush to "normality" – forgetting, of course, that schools do not return until Thursday giving parents a perfect excuse for a few more days off and going back to work later. The rest of the world has been back at work a week already, but here in depressed and dark Britain, any excuse for a few more days under the duvet will do.
What this means is that even if you are back at work today, your activity will be lower than you might expect – people you want to call will not be in and meetings get cancelled more often at this time of year because of "the weather" or due to the fact that "my child is off school". Like it or not, the next couple of weeks are generally lighter than is good for us. So, what we need is to do something that is useful, that fills the void and which will improve our bottom line later in the year.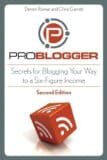 Without any doubt whatsoever the best thing you can do in the slack hours for the remainder of this week is to plan your blogging activity for 2012. Several research studies – some of which I have written about previously – show consistently that the single most effective method of generating new business leads is blogging. This is particularly effective in the so-called "business to business" or B2B sector (though I've also pointed out that no such thing exists…!). But blogging really, really works well when you are focusing on specific markets, rather than a wide spread of consumers with varying interests. If you work in a "niche" or you focus on a specific set of customers, blogging is going to be your quickest and most cost-effective method of getting business and maintaining it.
So, in these "less busy than normal days" before next Monday, you will do your business a great deal of good if you plan your blogging for the coming year. The easiest way to do that is to follow my (completely free) Complete Blogging System. This shows you how to plan your blog effectively and easily.
All you really need to do is to think of five themes – one for each day of the week. Then think of four topics within each theme – thereby giving you a list of subjects to cover every day of each month. Then for each of those subjects think of 12 different ways you can cover them – such as an interview, an opinion piece, a debate, a news item – and so on. In this way, you have a list of subjects for each month and then a way of writing about it each month. An example will help.
Let's imagine you are an accountant and you have divided your five themes into: bookkeeping, software tips, tax, VAT and payroll. Then, perhaps, you have divided your software tips section into the following four subjects: Sage, QuickBooks, Excel and Business Accountz. Now, say, with the Sage subject you could do an interview with an Sage expert in month one, then write a news story in month two when the software updates are expected, in month three you then have an opinion piece from one of your customers and so on. Using such a plan you could map out your entire year's blogging over the next day or two. You can see below how it looks – you know each month exactly what you are going to do on any given day.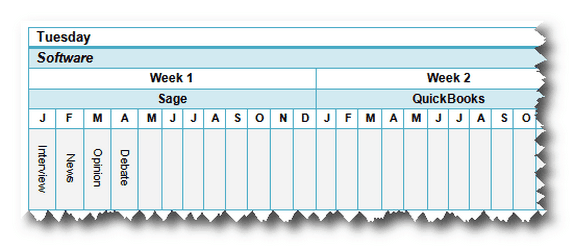 Remember, you only need five themes, four subjects within those themes and then 12 ways of covering each of them. You will then have a plan for the entire year ahead, enabling you to blog every day. If you are really free of time at the moment, you can get ahead – commission articles, even write them in advance. Remember you can use blogging software to "pre-load" your website with blogs which will be published in the future automatically.
What this means is that in these "downtimes" you can get much of your blogging organised – leaving you the rest of the year to do what is your "proper" job.
Related articles