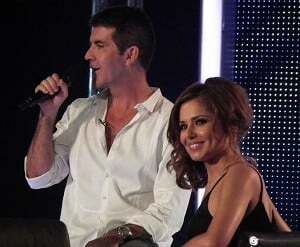 So, Cheryl Cole is to be a judge in the US version of X-Factor. Who would have guessed? Most of us probably. So how did she get the gig? Well, apart from knowing the right people – i.e. Simon Cowell – she was also a pretty obvious candidate. In the past year or so you couldn't move in newsagents for pictures of Cheryl on the front pages of "celeb" magazines. And if you didn't notice that, when you opened up the pages of your newspaper, there would be Cheryl at some event. Everywhere you looked, there was Cheryl, bless her.
So, when it came to deciding on who to be a judge, the American producers would have found themselves saying "she's the one". If she had to audition, unknown, together with other unknowns, the producers would have found it tougher to decide – and they might not have chosen her…! How dreadful..! Part of the reason she was chosen has to do with the constant chatter about her in the world's media.
Strange as it may seem, the choice of Cheryl is not a lot different to selecting a Nobel Prize Winner. Scientists are valued on their "citation" rate. The more times their work is cited in professional journals – in the references list – the more "famous" they become in their scientific discipline. And the more famous they become the more they are perceived as important and valuable in their field.
New research shows an interesting twist on this. According to researchers in Zurich, when someone wins a Nobel Prize their citation rate is already high. But the result of winning the prize means that their earlier works also get cited more – even if they have nothing to do with the reason they became a Nobel Laureate. It seems that recognition for their efforts means they get recognised even more.
Sociologists call this the "rich get richer" phenomenon. It seems that as people get rich, they attract money and get richer. Of course, money does not go to them like a magnet – but rich people often do not have to pay for meals in top restaurants, for example; the owner gets great publicity by saying they ate there. Equally, all sorts of brands want to lavish them with goods and services so they can say that they are used by that particular individual. The result? Well, the rich person doesn't have to spend money any more – making them even richer. And so it goes on.
The same is true in the entertainment world. Certain actors become so well known they attract applause and standing ovations every time – even if the play they are in is pretty average. Their mere presence ensures the applause. And because they get ovations in that average play, they get even more applause in the next one. Within months they are a "national treasure".
What this new study of scientists reveals is that there appears to be a "power law" in place. What that means is that there is a relationship between the extent of recognising someone's work and the boost it provides to their future recognition. In other words, the media coverage of Cheryl Cole in the past has led to her being a judge on X-Factor which will now mean she will get even more media coverage AND her past work with Girls Aloud will also get more coverage.
The Zurich research implies that this power law could be the very reason why some people become a Twitter phenomenon, why some YouTube videos become viral and – indeed – why Google is so popular. It also implies that your brand and your online business needs to exploit this power law and get as much online "citation" as possible. That means links, of course, but also "Likes" in Facebook and Re-Tweets on Twitter. The more of these kind of things you seek out, the more your brand will be boosted – and the more your past work will be seen as valuable too.
And if this Swiss research is right, it means that Cheryl Cole's past work will also get a boost; expect those Girls Aloud albums to be re-released at any moment. Oh help…!
Related articles