One of the reasons why many business leaders shy away from blogging is because of the time it takes up. Research shows that the websites that have the most impact on the bottom line are those which are updated several times a day. It means that if you want to succeed online against your competition you are going to have to do a  lot of content production.
Either that is going to cost – because you have to pay freelance writers – or it is going to take time away from "proper work" as you spend hours each week writing new blog posts. Either way, it is counter-intuitive.  How can it boost your finances if you are spending more money on online activities and using up your working time to produce the content or work with your content producers? It doesn't make sense.
Except, of course, the evidence suggests otherwise. Data from HubSpot, for instance, shows that in a study of 1,500 online businesses those who added content multiple times a day almost always received business from their online activities. But those who blogged monthly had only a 56% chance of generating business from their online activities.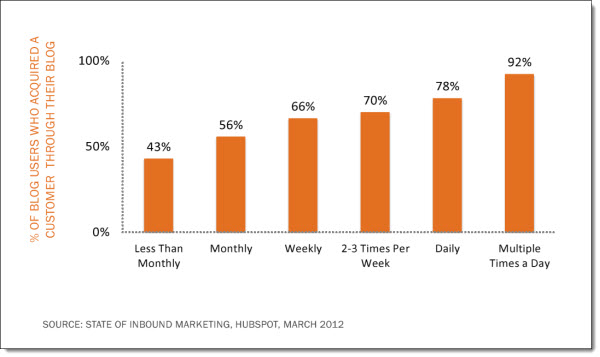 This merely confirms other research which shows the more content you add to your website the more business you generate. So, occasional blogging is not enough. Neither is paying your content producers, such as freelance writers, to produce a couple of articles a month. You need more. But how do you afford it?
One way is to open up content production on your website to your staff. If all your employees write blog posts you increase your content much more easily, with only a marginal hit on productivity. But that reduction in productive work is counteracted by the increase in business produced by the higher level of content on your site.
However, getting your staff to write blog posts does more than increase your business. Here are three other reasons why you should get your employees to write blog posts.
1. Increased sense of self-worth
The sense of self-worth is related to overall happiness and enjoyment of life. When people have higher levels of self-worth they perform better at work and are more productive. When staff are asked to blog they feel valued and this increases their sense of self-worth. The result is a happier workforce and people who are generally more productive. So, even though blogging may take time away from their active work, the increase in sense of personal value counteracts this. However, it is all dependent on the way you introduce blogging. If you force it, you reduce sense of self-worth, making the situation for your business worse. Carefully introduced with appropriate motivations, you'll find that blogging makes people happier in the workplace.
2. Reduced workplaces stress
No matter where people work, stress occurs. Time pressures, deadlines, conflicts in the office – they all lead to stress. One way in which stress is relieved is writing. Research has shown that writing is often a cathartic activity. By getting your staff to blog, they will be able to express themselves and will reduce the degree to which workplace stress affects them. Blogging can lead to reductions in office stresses, thereby also creating a more productive, happy workforce.
3. Raised "web footprint"
The more bloggers you have on your team, the more connections they will make and the more you will appear online. One blogger only brings you one set of social connections, from which you only get a limited range of visibility for your business. By having a whole team of bloggers you get much wider online representation making your business more prevalent in search results, in social media and in links on other sites. In other words, more bloggers leads to greater visibility for your business. In turn that feeds back to the blogger's sense of self-worth because they get the sense they are contributing to the business. That raises loyalty as a result.
There are so many reasons why you should allow your staff to be bloggers for your business website there has to be a pretty significant reason as to why you shouldn't take this step forward. And if you are worried about what they might say, all you need is an editorial process with your current content producer acting as the arbiter of what can and cannot be published.
Related articles