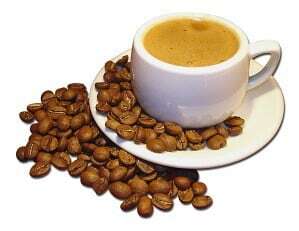 Coffee drinking is so popular you can't move on Britain's High Streets for coffee shops. Every major international coffee store is there, as well as loads of independents. There used to be a pub on every street corner, nowadays it is a coffee shop. Plus if you walk into your local supermarket you can find a whole aisle full of various coffees as well as a plethora of new machines to make all manner of different coffees for you. We've all gone coffee mad it seems.
Of course, the rapid rise of coffee shops has more to do with leisure and socialising than it does with our love of coffee itself. Indeed, people go to coffee shops and drink tea…! Goodness me…!
Coffee has several effects on our body, some of which are not good. For instance, it is a diuretic which means it lowers your body fluid levels leading to minor levels of dehydration. It can be addictive too, leading to withdrawal symptoms of headaches and shaking – often seen in people who drink loads of coffee at work in the week and then have less at home over the weekend and wonder why they get headaches every Sunday…!
But coffee also has positive effects. It can stimulate your levels of consciousness and help you become more attentive in those early morning meetings.
And now, new research shows that a couple of cups of coffee can heighten your awareness of positive words. It has no impact on neutral or negative words. Effectively, what the caffeine does is increase the level of a neurotransmitter called dopamine in the left hand side of your brain, where it is also associated with general cognitive processes like attention.
So why is drinking coffee good for you when you use the web? Because we spend so little time on websites and give them almost no chance to make their point we need to easily pick out the high impact, positive words which we are really looking for. A couple of cups of coffee can help you achieve that.
The only problem is you also get the negative effects of coffee. Perhaps the answer then is not to drink coffee but to spend more time on web pages, to slow down generally and take more time. And how do you do that? Well that's easy – drink less coffee…!