Every day there are complaints about the Internet and how it has changed society and is making life worse for us. Indeed, there is hardly a week when something like the Daily Mail does not publish an article about the supposed evil of the Internet. Yet as we saw yesterday in Boston evil exists in the real world with real people performing despicable acts. We can only imagine the horror on the streets of Boston and wonder why would anyone stoop so low as to kill families watching a fun, inspiring event?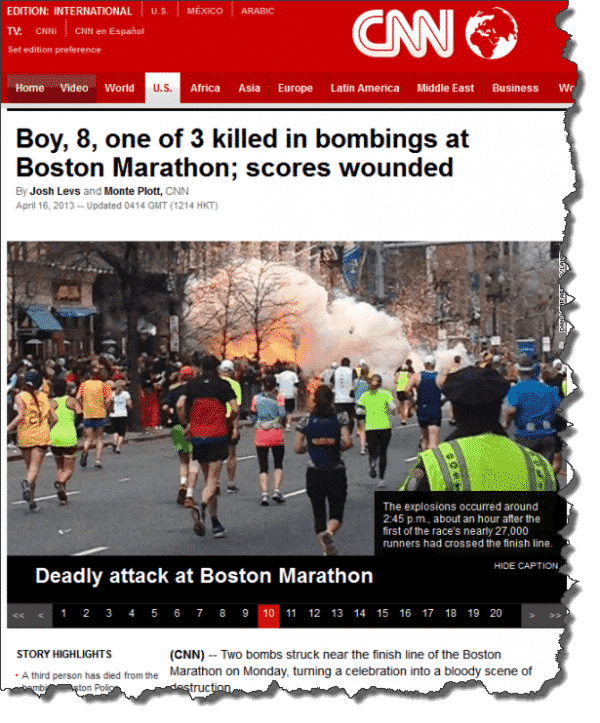 But all the while the Daily Mail bangs on about the terrors of the Internet and how awful it is, we witnessed yesterday its immense power.
Within an hour of the Boston bombings, Google had adapted its Person Finder tool into a special tool so that loved ones could track each other down in the inevitable confusion. The Red Cross, too, had its "Safe & Well" system widely circulated so that families could be sure what was going on. One of the biggest psychological issues following an incident like this is the "not knowing" and tools such as these – only brought about thanks to the Internet – are immensely useful to everyone involved.
At the same time, individuals taking part in the race or who were spectators took to the Twitter airwaves to let people know they were safe and OK. And Twitter itself was quick to respond to the fake tweets arising by removing them, enabling the Twittersphere to concentrate on the news and real commentary.
Meanwhile, over on Facebook, the race organisers were able to keep people informed of relevant information, avoiding problems for people involved in the marathon. These announcements were passed on by sharing activity of tens of thousands of individuals, providing a huge network of information, which would otherwise be difficult.
Even people who were not directly involved in the Boston Marathon took to the Internet to provide helpful information, including Search Engine Land which published a list of useful online resources.
The outpouring of Tweets, blog posts, YouTube videos and comments showed how appalled people were and how supportive they wanted to be. If anything, yesterday, not only did the Internet prove how important and positive it can be in times of crisis, but it also demonstrated that, in spite of the evil we witnessed on the streets of Boston, people are mostly caring and supportive of each other. Once again, it suggests that the critics who think the Internet spells the end of life as we know it are wrong. Plain wrong.