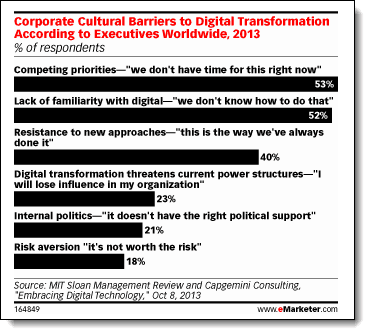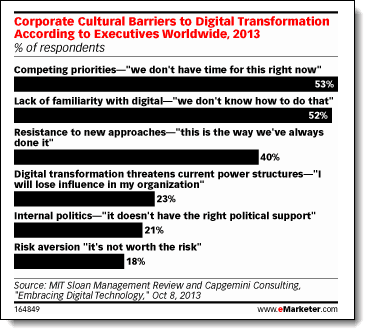 The Internet is dominated by just a few businesses – Google, Facebook, Twitter, LinkedIn, Amazon, Microsoft, to name just a few. Famously, several years ago, Bill Gates went into work one day having seen the threat posed by Netscape and turned his company almost overnight to a "digital first" firm. The other leading businesses online are, though, companies that started online. There are precious few dominating digital firms which are from the "real world" first.
For most businesses, the Internet is seen as an "add on" to their company, rather than the focus of it. They see the web as an extension of marketing, instead of the crux of their business. They see email marketing as a mere supplement to direct mail or posters, instead of being central. They see the whole digital content world as a distraction to "proper business".
This is made clear in a recent study looking at why traditional businesses are not transforming themselves into digital firms. Four out of every ten executives told the researchers they did not want to change because "this is the way we have always done it", showing there is a considerable level of Canute-like thinking going on in business. A quarter of executives even felt able to reveal that if the company did take on digital they would lose power within the firm – they therefore did not want it to happen because it would affect them personally. I suspect that there are many others who also thought this but were not willing to reveal it to researchers.
Top of the list, though, were two equally weighted issues – perceived lack of time and lack of knowledge. Executives felt they did not have the time – because they were too busy getting on with "proper business" and, besides, even if they took the time to do more digital, they wouldn't really know what they were doing.
Meanwhile, as traditional firms get stuck in the rut of old ways, merely using the web as a half-hearted assistant to marketing, the digitally based firms – or those transformed into digital-first – are continuing their stranglehold on the Internet, furthering their dominance. Google is launching a new shopping service, Shopping Express – albeit only in California at the moment, but it won't be long before it hits a town near you. Goodbye old fashioned shops. I wonder if they will respond? I expect they will, to say that "the Internet has killed retail". Of course, that isn't entirely true – traditional businesses are slowly committing suicide, because they are not dealing with those central issues of focusing on old ways and ignoring learning the new ways.
Many small business owners are in the same boat. They see digital as an "add on", as a bit of marketing support, failing to put digital at the heart of their company.
Google Shopping Express is only the beginning. Expect to see Google Law Express or Google Accountancy Express or Google Consultancy Express. OK – I have made them up. But it is not beyond the wit of a digital giant like Google that focuses entirely on digital first to come up with novel ways of delivering business services.
Rather than wait for some digitally focused behemoth to come up with such ideas and then complain "the Internet has killed our business", isn't it time that traditional firms set aside their old-fashioned attitudes and came up with these new ways of working before Google or Facebook does?
The lack of online business for many companies has nothing to do with online marketing or lack of knowledge or inability to find the right keywords. It is all to do with the attitude of the bosses. When that changes, their businesses will be transformed and the dominance of the big firms will dissipate.