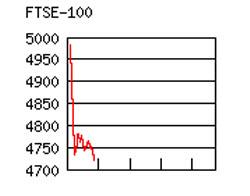 As I write this, the FTSE 100 has plummeted by more than 5% in a little over an hour and a half of trading. Things are not looking good on the stock market today. The panic is because traders are worried that UK-based savers will now take their money out of British institutions and pile the cash into Germany, where every last drop of each account will be protected. Without such protection here, the UK looks a risky place to have any money.
Consumer confidence is falling faster than a lift without cables and everyone you speak with is either tightening their belts, or moving money around to a place of "safety". Spending is falling in the High Street, energy suppliers are now "coaching us" in using less energy so we can save money and everyone's focus has turned from spending to avoiding spending.
That will have an impact on Internet marketers and those who run a business online. True, the Internet is seeing a shopping spree, but that's as people turn to the Internet as a way of making money. But here's the problem many online marketers will face: people will cutback on regular spending because it's a saving they can "see". Reducing a regular outlay gives people a sense of saving more and that's why they are going to cut back on their broadband bills.
The current financial crisis will inevitably mean people moving to cheaper broadband products – and that means either slower connections, or less data being transmitted. They will probably save up this for entertainment – music downloads, and wathing TV online. And that means there will be less room for other businesses to gain attention.
The reason is online video and audio. Over the past year, the business world has gone video crazy. We're told you're not a proper web site unless you have video. True, there are some profound psychological reasons for having good, well produced video on your web site. But the harsh financial realities we are now facing means that the millions of people on broadband will start to downgrade their service in order to save cash.
That means if your web site is text-based and not crammed with video, you'll gain easier access to those savers. In other words adding video to your business web site as we enter a meltdown of the financial system could be the very thing which works against you, rather than in favour of you.