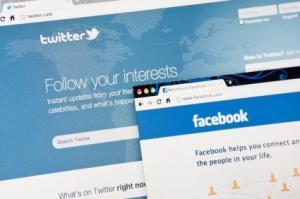 Twitter is a great social network – after all, you can have quick conversations with people, sharing your thoughts about a TV programme "live", or commenting on a soccer player's mishaps on the field with other Tweeters in the stadium. You can even tell people you are eating a cheese sandwich, if you wish. However, when you look at a stream of Tweets you will notice it is full of links – these take you to blog posts, to pictures, to videos, essentially to other sources of information.
Over at Facebook, the density of links is lower. People hold conversations and share pictures, or their play games with groups of like-minded friends. But the sharing of information and leading people towards other sites appears to be lower.
Could it be that Facebook is "more social" than Twitter? Do we use these different social networks for alternative purposes?
These are the kind of questions which are partially answered by a new research study from the University of Manchester. The research looked at 300 social networking users and was trying to find out if there was any connection between personality type and which social network people used. The study did not really find any strong connection between measures of personality and either Twitter or Facebook. There were some minor variations, but nothing significant.
However, the study revealed a difference in the way people tended to use these social networks. It transpires that Twitter users seek more fulfilment of the "need for cognition" – the psychological term for the desire to be mentally stimulated. This suggests that what we want when using Twitter are those links to more useful information, whereas we don't look for this when we are on Facebook.
It means that if you wish to make the most of Twitter you need to be sure you add links to useful information – not just fun stuff, but material which people will find interesting and valuable. But if you do this on Facebook, the research implies that you will get lower engagement because that's not the kind of thing we want to find on that social network.
The research is not really conclusive, but it does demonstrate that we do appear to use different social networks for alternative purposes. That means if you are using social media as a means of promoting your business or connecting with your customers, you should provide slightly different kinds of content on each network you engage with. On Twitter, provide links to thought-provoking material – on Facebook, just chat about that material.
Related articles